in the doghouse…details of a remodel
May 1st, 2017 | by Elizabeth | Posted in benjamin moore, built-ins, color, design, home & garden, remodeling | #benjamin moore, #color, #design, #doghouse, #hgtv, #houzz, #nashville design, #pets, #redesign, #remodel, #woman builder
---
If you hang out with me over on Insta, you've likely seen snippets of this remodel already. But I wanted to share this detail on the blog, because it has been one of my most liked posts to date.
the remodel
---
last year a prospective client called and wanted to meet with me. he said he and his wife wanted to remodel their house.
their entire house.
yeah, I hear that a lot. as in- when I ask a new client what they want to change, the answer is usually, "everything! I want to rip it all out and start all over!" then we giggle, I agree that I would love to do the same in my home, and we move on the specific areas.
but not this couple. he meant it. and when I say everything, I mean everything.
the first time we met, I knew it was going to be a fun project. aside from being one of the most delightful couples I've ever met, they are just genuinely happy people. but- remodeling a home, especially while the homeowners are still living there, is tough. work hours must be adjusted, schedules must be changed, etc. but for the homeowner's themselves, it is the hardest of all. people schlepping through your home at odd hours, never knowing where something is, and just wanting to find ONE place in your house that there is not another person- well… challenging doesn't really descibe it. but mr. and mrs. b hung in there with us, and in the end, they have one incredible transformation.
because we did such an extensive amount of work on this project, I'll be sharing it with you for a while to come, but tonight I'm just going to focus on one fun detail.
the doghouse
---
the anchor of the home is a large kitchen, which is flanked on one end by a staircase. but the staircase was AWFUL. cough, cough… let's just say it was not up to code. dangerous is another word that comes to mind.
the treads were not deep enough and the risers were not tall enough. because of this, they were very steep and dead-ended into the wall with no room to turn. and as you can see in the picture below, the laundry room door was RIGHT THERE.
looking at the staircase I could see why they were built this way- there simply wasn't enough room for the staircase. so what did they do?? they crammed one in anyway and just made it work. (NOT my clients by the way. they bought the home from someone, who had purchased it from the "builder." it was a "model" home. just amazing the crap some people will pass off on others.) it was obviously an afterthought of said "builder" after the house was framed or nearly built. "hey, let's cram some stairs in right here, that'll be great!" kinda like cramming myself into a size 2 jeans. IT JUST WASN'T MEANT TO BE, MR. BUILDER.
and this was one of the first things my clients showed me. their mother had fallen down them. and both my clients had as well. they were all lucky to have no serious injuries as of yet. but it was HIGH atop the list of have-to's.
anyway. so what to do.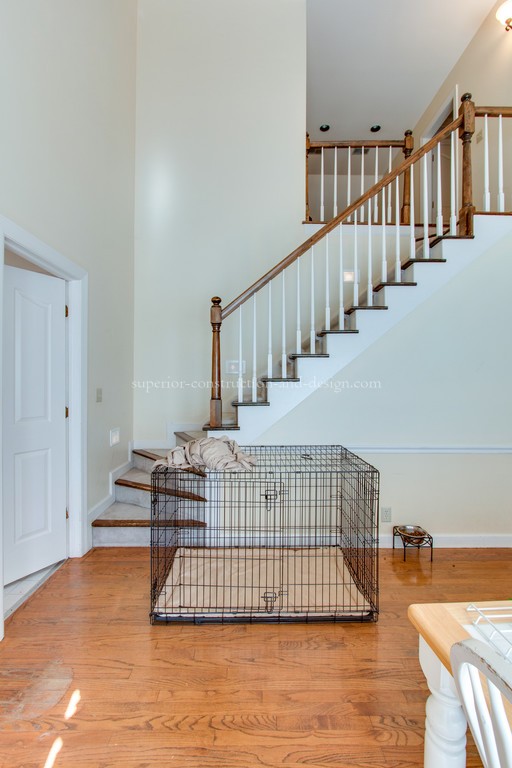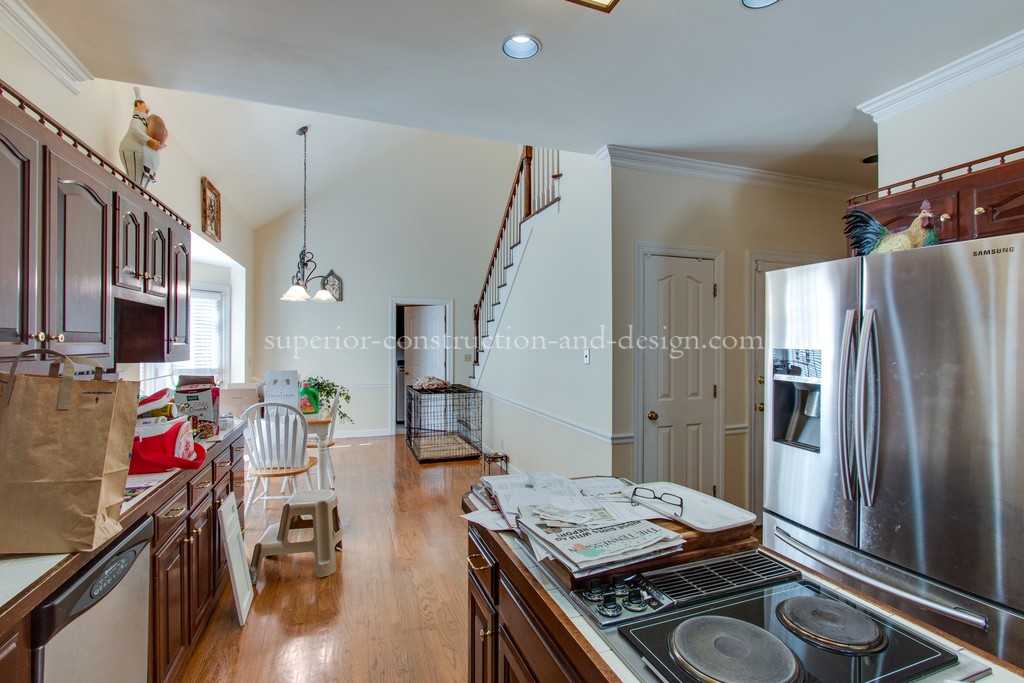 new stairs
---
so here's what we did. we moved the laundry room door over about 4′ to the left, which gave my clients a much needed new configuration in the laundry. LOTS more room to wash, hang, and just plain walk around.
we ripped out the entire staircase, and built a new one. TO CODE. and we designed this one to make a complete turn WITH a landing. we added wood treads and risers, iron spindles, and stained out the banister and treads to match the beautiful floor we were installing.
but the BEST part was the doghouse. as I'm sure you realized from the first picture with the crate, my clients have a large fur-baby. she indeed was large, and yet still a baby. by utilizing the space under the stairs, we created a cozy new home for Mia (what a beautiful name, right??) and freed the floor space the dog crate was taking up.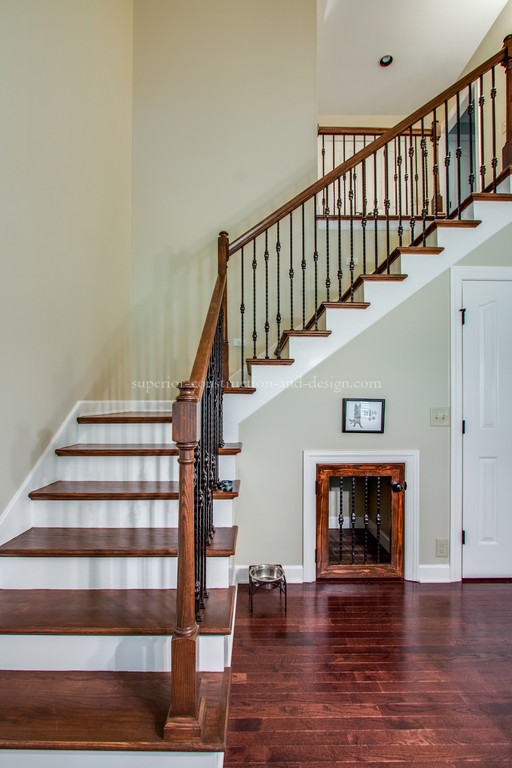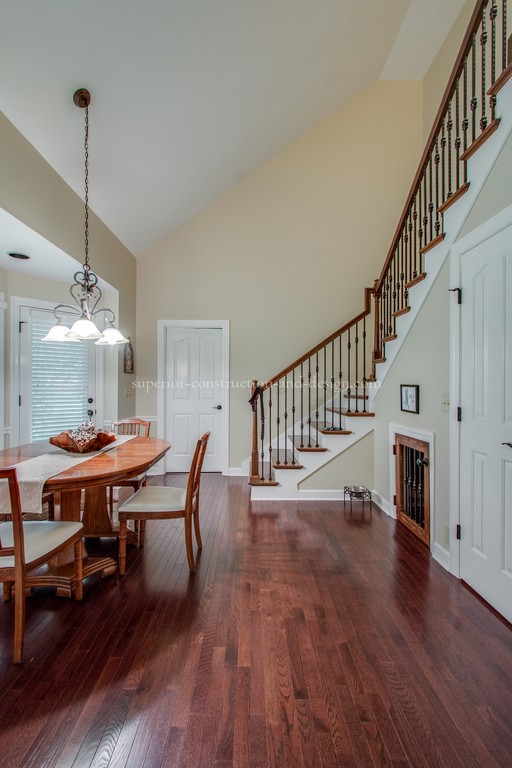 SO. MUCH. BETTER!!
let's check these out together so you can really appreciate the difference-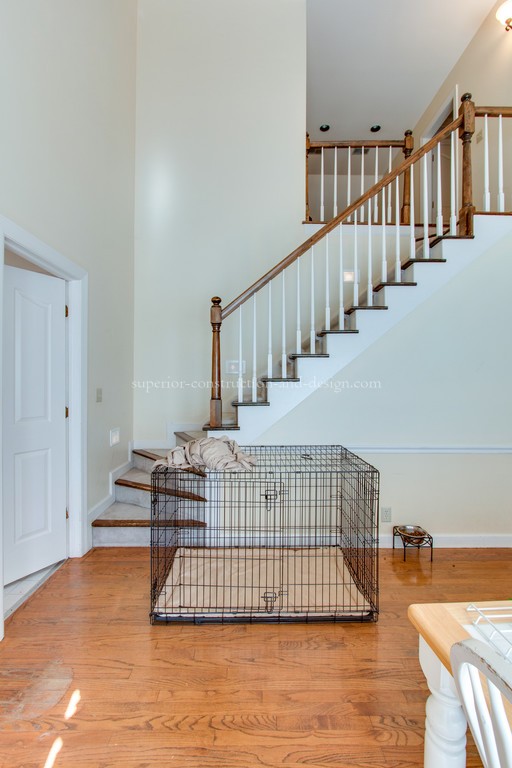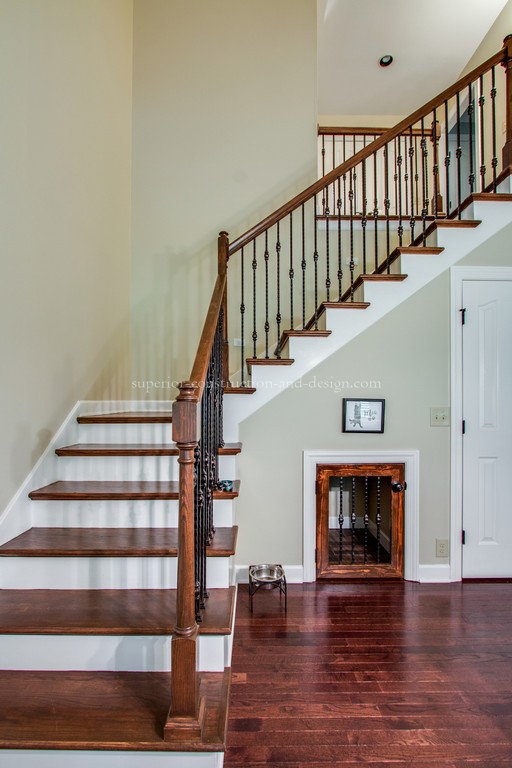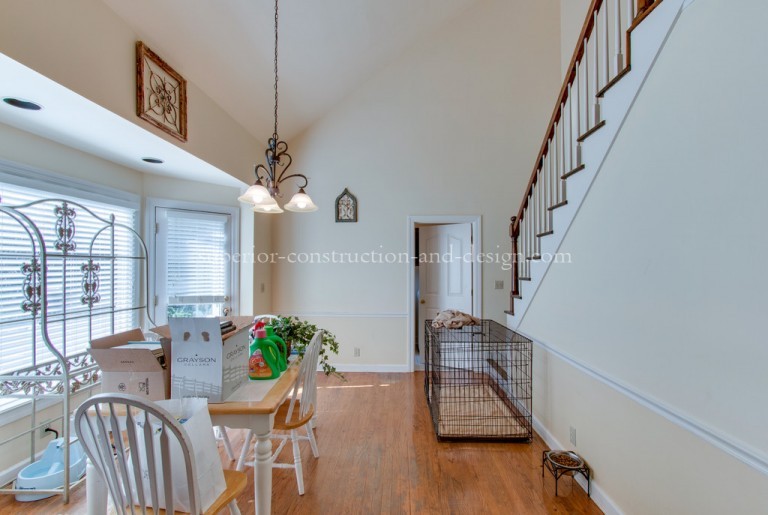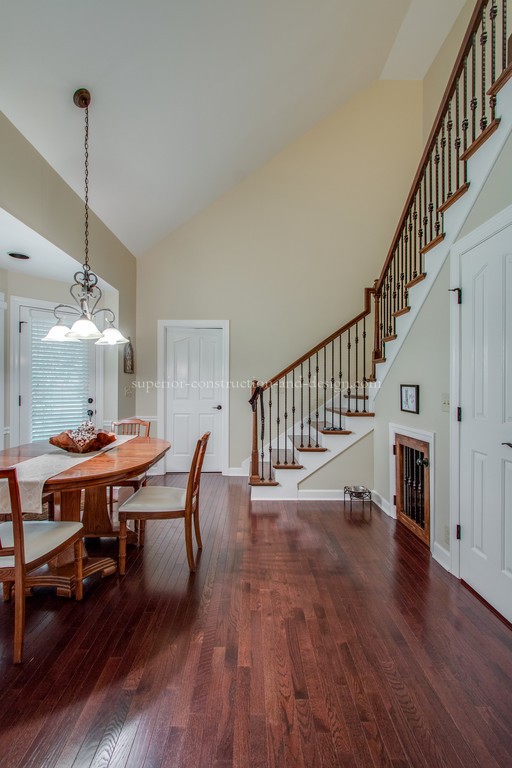 in the doghouse
---
and here are a few pics of the inside of Mia's house!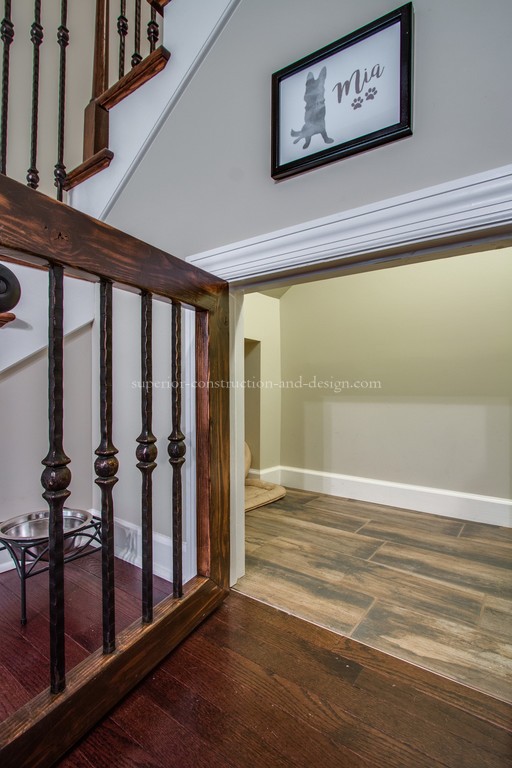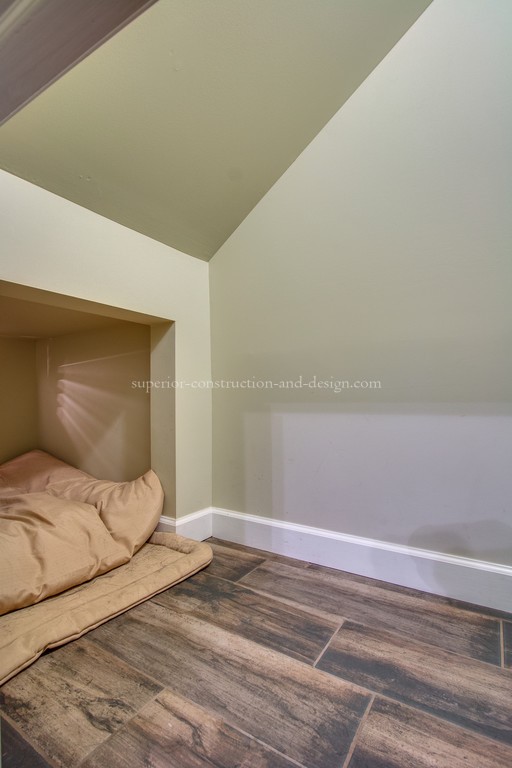 but if you think this is good, wait'll you see the other end of the kitchen!! but that's for another day…it's late, and I have a 9:30 video call in the morning for some promo on the book. the publisher is interviewing all of us (15 staging experts from across North America- and lemme tell ya, these ladies are the BEST in their areas of expertise!) then they will push these interviews out on the interwebs and social media. I'll share when they are live!
thanks for hanging out with me for a few- and be sure to subscribe up top to receive my guide for 7 Elements to Instantly Elevate Your Space!