they're just not that into your design…how professional staging will up your game
May 15th, 2017 | by Elizabeth | Posted in real estate staging | #color, #declutter, #decor, #interiors, #professional, #real estate, #staging
what??
what do you mean "they're just not that into your design??"
it's not about design, people.
it's about selling a house. making it a marketable asset.
when you decide to sell your home, it is no longer your "home," but a product. if you don't see it that way, and market it as such, then you will be holding on to your "product" for a while.
let me tell you WHY professional staging is the most important, yet often missing, piece of the sales plan for you home.
---
The Decision to Sell
This time of year, 'for sale' and 'open house' signs begin to pop up everywhere. The spring and summer months are always a busy time in the real estate market. Many homeowners are eager to sell and relocate during the summer break. Additionally, properties show better in the natural lighting of longer days and with greener yards.
But often, an important step that should be taken by sellers is overlooked. When listing their home, the homeowner must emotionally detach and view it as a house– a marketable asset to be sold. As such, the most important move a seller can make is to properly stage the house. Unfortunately, what is considered a necessity in most parts of the country, is sometimes viewed as an extravagance in our area.
Wait and See
Any real estate agent will tell you that the first couple of weeks on the market are the most crucial time for a property. After that, excitement and momentum begin to fade. The initial buzz has passed, and it becomes more difficult to sell. Some sellers believe they can "try it for a while" on the market, and then stage it later if it hasn't sold. This "wait and see" mindset seldom works. Buyers have already seen the property online, and no one will come back to a property they have already viewed and marked off their list.
Why Stage?
Buyers today are looking to move up in size, style, and status. Ninety percent of all real estate searches begin online. Statistics show that by the time a buyer contacts their real estate agent; they typically have a top ten list of homes they have selected online to view. And by the time they have reached the sixth home on that list, they have made the first offer. Enlisting the services of a professional real estate stager and a professional photographer will give the property the competitive edge it needs to stand out among the other listings. If the property is not visually appealing online, the buyer will never set foot in the house for a showing.
Staging Is Not Decorating
The stager's job is to accentuate the positives of the property, and deflect from any perceived negatives it may have- as in small room size, an awkward floorplan, or poor natural lighting. When selling a property, it is not about the décor in the home. The stager is not trying to sell the homeowner's taste in design; but to stage the house to appeal to the widest audience possible. Professional real estate stagers have been trained to assess what features should be highlighted, what features need to be minimized, and how to accomplish that. Therefore, if the overall decor of the home is very taste-specific, a professional stager will edit it drastically. It's not about the homeowner's design preferences, it's about selling the property. Today's buyer wants a move-in ready home that appears magazine worthy in online photos. They're just not that into your design.
The Showing
When a potential buyer views a property, they spend an average of SIX minutes in the house- and form their opinion in the first fifteen seconds! This statistic still gets me every time I read it, but substantiates even further the need for professional staging. First impressions (good OR bad) once established, are incredibly difficult to adjust to what's yet to see. In other words, you never get a second chance to make a first impression. Therefore, the exterior, the entrance, and foyer are very important- and these first impressions frame the buyer's interpretations of what's to follow.
The Cost of Professional Staging
Homeowners often have the wrong impression of what professional staging is; assuming it is to only sell the property, and reasoning that staging is not needed because houses are selling faster than they can be listed. But while selling the property is the goal, selling for a higher price point as quickly as possible is the specific goal.
Professionally staged homes sell in one-fourth of the time, and staging costs less than the extra mortgage payment(s) incurred due to longer listing time.
Staged properties sell for 6-17% more than non-staged properties.
Agents are more enthusiastic to show move-in ready property to their clients.
Staging reduces issues used for price negotiation.
The following photos are from a house we speed staged in Lebanon last year. Imagine you are a buyer scrolling through listings online- would you choose to view this property seeing the before photo, or the after photo?
Occupied Staging: BEFORE
This home was owner occupied when we went in for a speed staging the day before it went on MLS. In a speed staging scenario, we use only the homeowner's items and bring in very few props.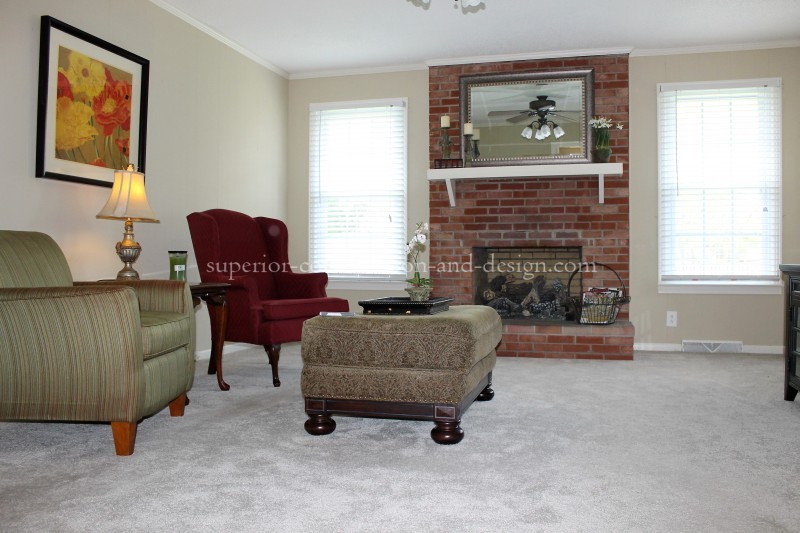 Occupied Staging: AFTER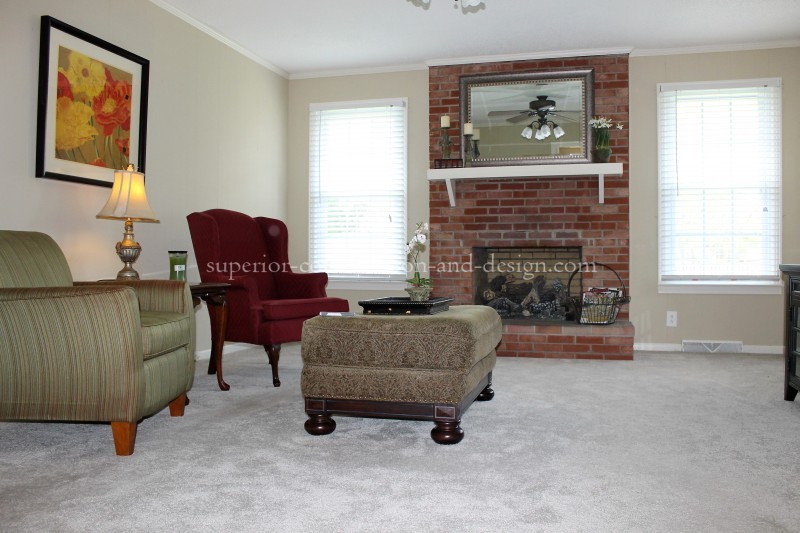 This home was staged on a Friday afternoon and photographed on Saturday morning. Hours after being listed on the Multiple Listing Service, several showings were scheduled. Within 48 hours of being listed, the home had a binding contract with an offer OVER the original asking price, and two backup contracts.
The proof is in the pictures.
and the PRICE!
there is an art and science to staging- it is not a hobby, and it requires training. if you are thinking of listing your property, then do yourself a favor and stage your home using a professionally trained and educated stager, and a professional interior photographer. you can thank me when you are accepting offers on your home from multiple buyers 🙂
and for even more info on staging and it's importance, grab a copy of my book here on the site. written by myself and 14 other professional stagers from across North America who are leaders in the industry , it is an indispensible manual on real estate staging.