3 Ways Glamorous Lighting Can Transform Your Interior
October 8th, 2018 | by Elizabeth | Posted in design, remodeling | #chandeliers, #house remodel, #interior design, #lighting

If you're getting yourself all glammed up for a night out, you'd probably wear some jewelry right? That's what lighting is for your home — that final touch of sparkle!

Today I'm sharing some of the lighting selections we chose for a client's remodel in Mt. Juliet, TN. I'll have another post for you later with the Before & After makeover, but for now…

Let's look at some lighting y'all!

Quick note: All of the fixed lighting (not lamps) that you'll see in these photos were generously donated by Hudson Valley Lighting. The selections and creative freedom were all ours!

style deets will influence your lighting
---
Style deets first, because the home's style and palette set the scene for our lighting choices.
(You wouldn't put your jewelry on before your clothes, would you? Right!)
For our client's home, think modern mixed with traditional and a fresh palette of soft browns, vibrant greens, seaside blues, and airy whites.
Relaxing.
Classy.
Breathable.
Real life living.
Ahhhh.
Our lighting selections will help bridge the modern and traditional design styles while upholding the style and ambiance of the space.

how chandelier lighting can elevate your space
---

They say "save the best for last" but I'm an eat-your-dessert-first kind of gal. 😉 So I'll share my favorite lighting selection first!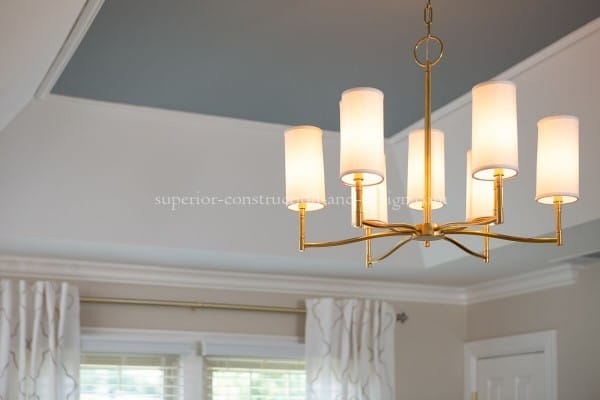 Dillon Chandelier in Aged Brass, Hudson Valley Lighting
I just love how this piece takes inspiration from a traditional chandelier but adds a more modern touch with cylindrical shades and subtle curves. It's an elegant take on an old classic.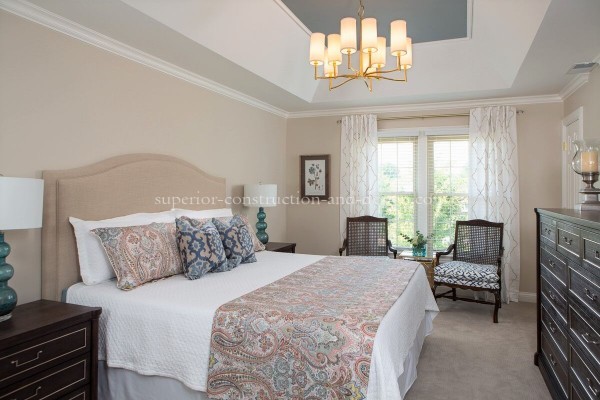 Dillon Chandelier in Aged Brass, Hudson Valley Lighting
Don't you just love how it's the crown of this space? The aged brass also helps play up the warmth in our brown tones – which gives this classy bedroom a touch of welcome-home comfort.
Okay, I can't resist one more photo. With the backdrop of the sea blue-green ceiling accent, this chandelier creates an almost cloud-like ambiance during the day.
I imagine this bedroom is tough to leave!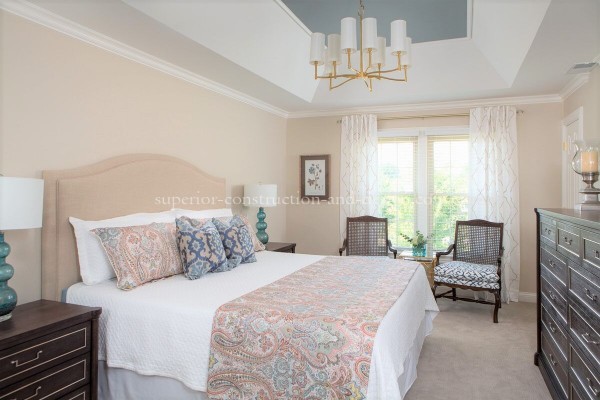 Dillon Chandelier in Aged Brass, Hudson Valley Lighting
how to pair chandelier and sconce lighting
---
I know I told you the previous chandelier was my favorite but I really love this one too. Look how stylish it is!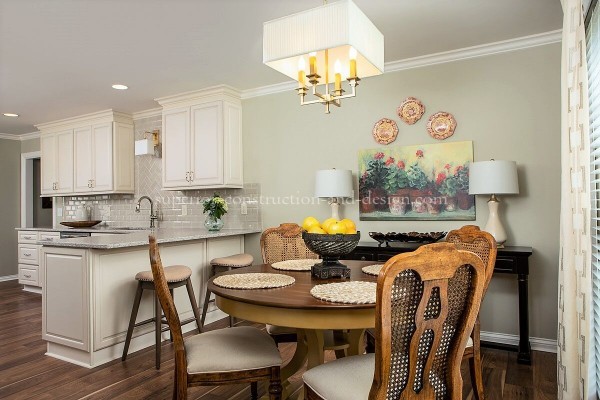 Berwick Chandelier in Aged Brass, Hudson Valley Lighting
The traditional candelabra-inspired lighting is similar to our master bedroom chandelier but a whole different take:
Updated lines and straight edges

A sturdy square base

Light-diffusing pleated shade (because nobody wants to be blinded by harsh light)
See how the aged brass and square shape is reflected in these beautiful golden curtains too? Perfection!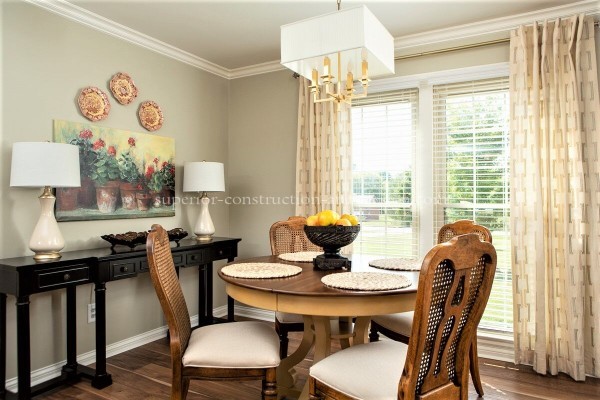 Berwick Chandelier in Aged Brass, Hudson Valley Lighting
Okay, I can't show you the kitchen chandelier without sharing the sconce we chose to accompany it. We didn't want them to be too matchy-matchy, but the box shade and aged brass keep this home's style consistent!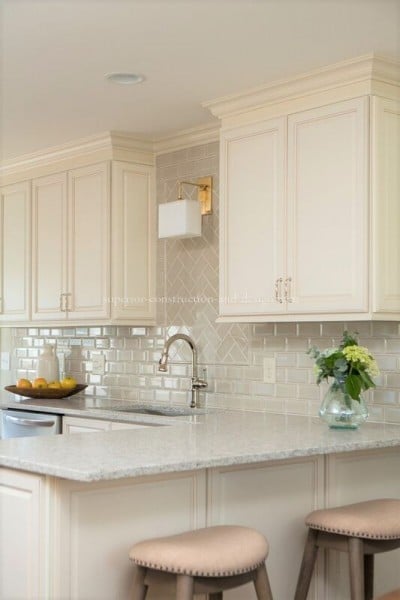 Leyden Sconce by Hudson Valley
Here's the whole scene together!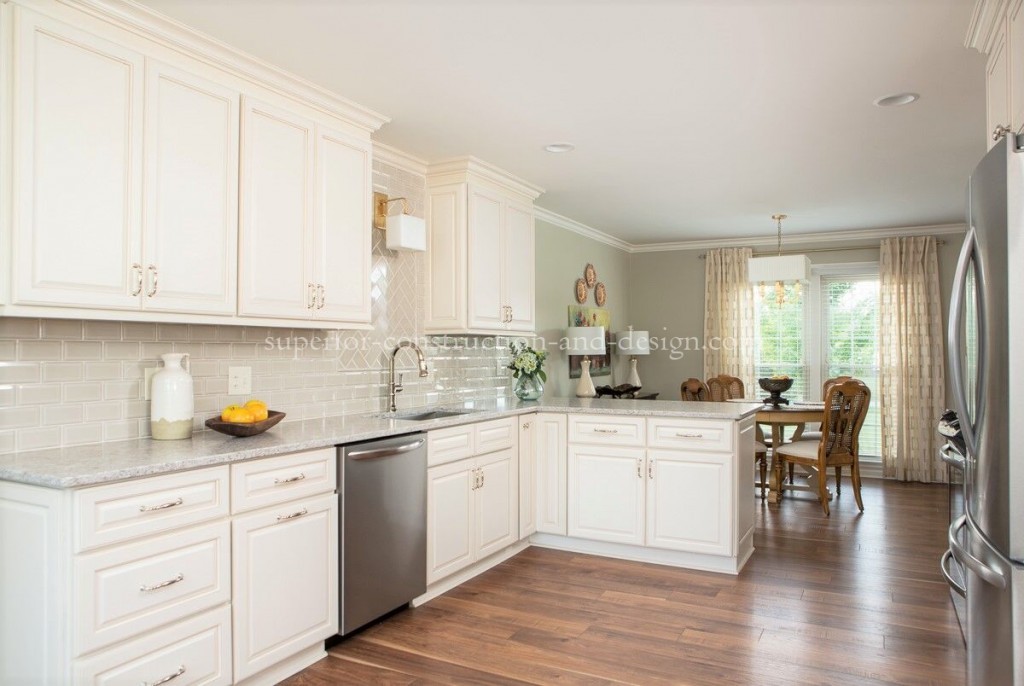 why flush mounts are the perfect lighting for nooks
---
There's just something about a nook that's so gosh darn charming!
When we created this window nook for our clients, we knew some overhead lighting was needed for quieter evening moments.
However, with our chandelier and kitchen just a stone's throw away (not that I recommend throwing stones in here), we didn't want the nook's lighting selection to compete. So here's what we chose…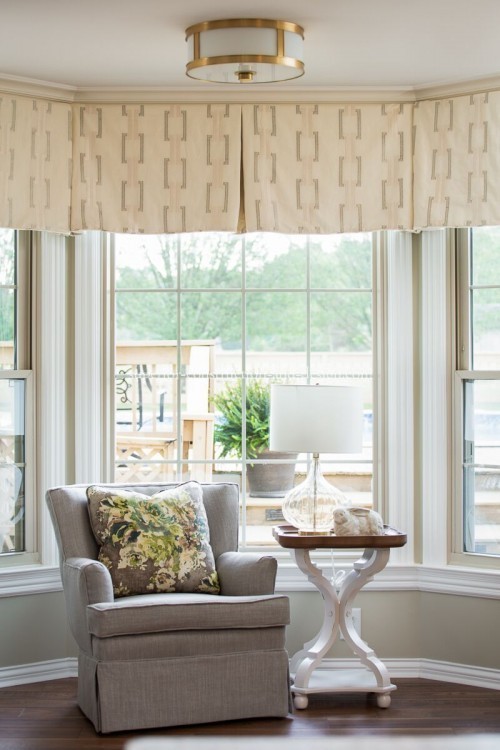 Patterson Flush Mount in Aged Brass, Hudson Valley Lighting
A stunning flush mount!
It's subtle. It complements our palette and modern traditional style. It has a quiet glamour that can stand up (or down) on its own. 😉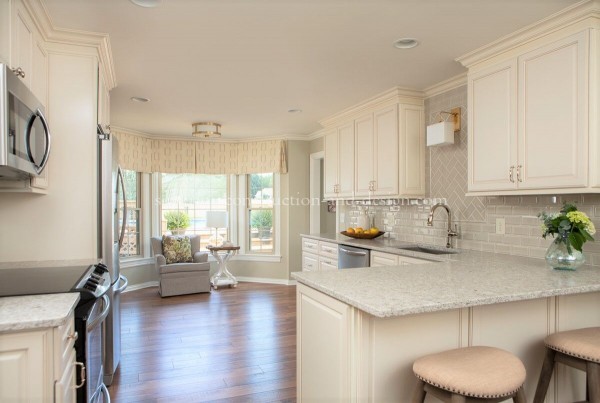 Patterson Flush Mount in Aged Brass, Hudson Valley Lighting
The choice of a flush mount (as opposed to a hanging chandelier or pendant) also keeps the space feeling more open.
See how we can look right through the kitchen and into the back patio? Imagine a chandelier in the flush mount's place – it would have stolen the show!
Speaking of show-stealers…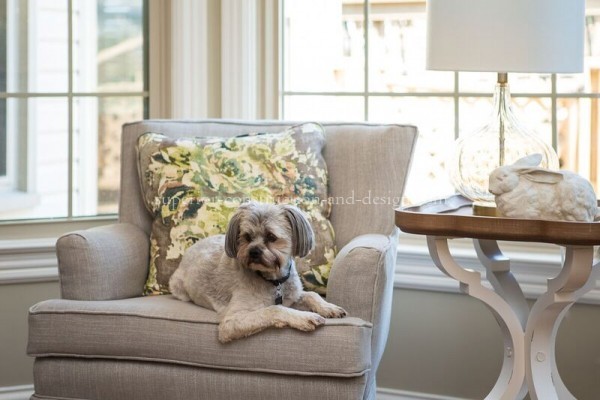 Meet our client's handsome pooch, Slugger. Not available online! 😉
There you have it — 3 ways glamorous lighting transformed this home's interior. Thanks for following along, and many thanks to Hudson Valley for providing stunning lighting for this total remodel. The clients are overjoyed!
Coming up, I'll be sharing the full Before & After design for this home, as well as some new and exciting finds from this fall's High Point Market.
Can't wait to share these with y'all! <3
Psst! Subscribe to our newsletter at the top of this page for our free guide to selecting the perfect lighting for your home!