13 Exciting New Trends in the Kitchen & Bath Industry
February 17th, 2020 | by Elizabeth| Posted in design, kitchens, remodeling, trends

Y'all, I promised you some exciting new finds from the Kitchen & Bath Industry Show (KBIS), and they. are. here!

I have been sitting on these photos for 2 weeks, just waiting for a spare moment to share them with you in a blog post. Two weeks (and a house full of the flu) later, I am finally sitting down and picking out my faves.

But let's not beat around the bush! We're diving right in to 13 of my favorite finds from KBIS — from useful to creative to just plain ol' fun! You'll see what I mean… 😉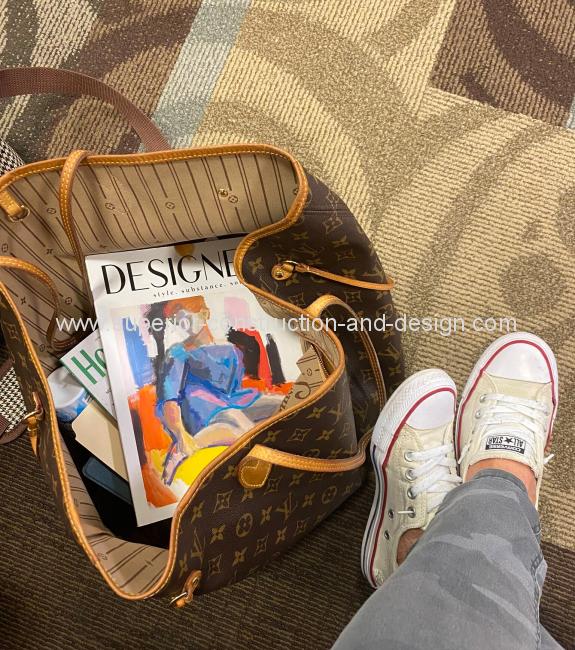 Airport snapshot!
If you ever visit the Nashville airport, you have to tag @BNACarpet.  Cause only the coolest city in the world has an airport with it's own Instagram handle! 😉
Okay… numero uno…

Revel Woods is coming out with LVT, y'all… and it's one where you can PRINT your OWN design! What?!? Talk about innovative!  This is a game-changer!
You know how I feel about Revel Woods already because I put them in my own home.  But if you're new around here and don't know what I mean, you can read about them here and here.
2. New Floating Porcelain Tile by Daltile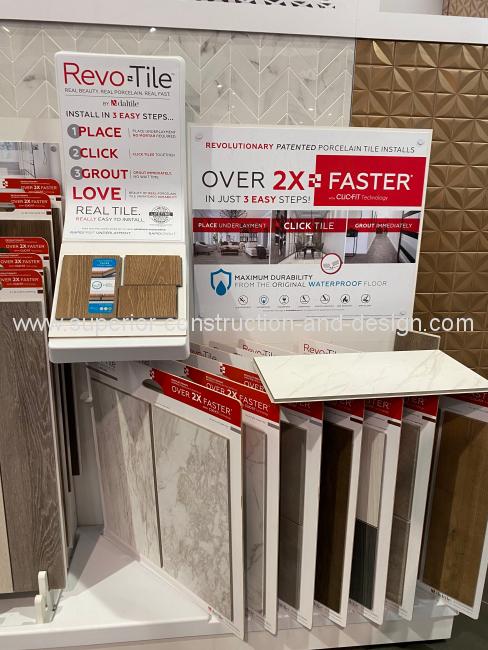 This new floating porcelain tile by Daltile is called Revotile, and I am SO excited about it. It's an interlocking system that floats, similar to LVT, but it's porcelain. This eliminates all the tile labor and can be installed directly on top of wood, tile, etc. with no Durarock, and no tear out of old floor! This is another new product that is seriously gonna shake things up!
Here's a picture of the indoor/outdoor porcelain tile by Daltile. Looks incredible.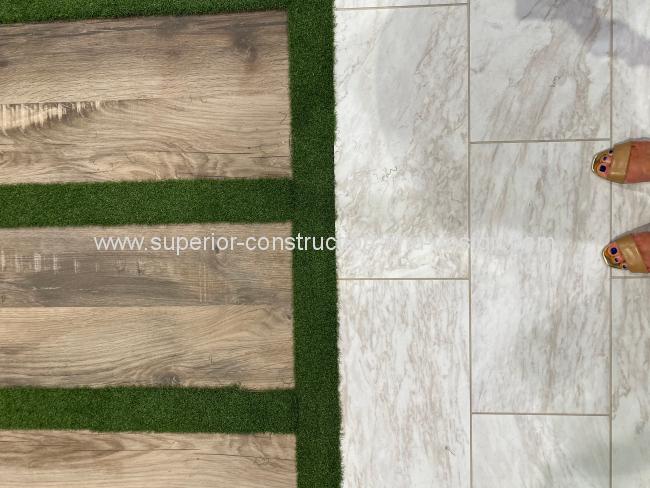 3. GE Cafe Appliances with Interchangeable Handles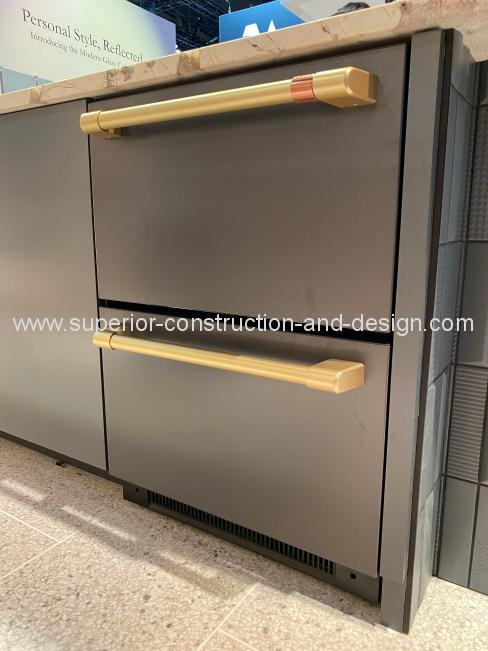 The GE Cafe line is such a gorgeous line of appliances. Plus, the handles are interchangeable! Yes, please!! (Kitchens are definitely going custom these days.) I especially love this 2 drawer dishwasher, because shouldn't we have two drawers??
4. Lucite Handles and Pulls in Brass and Nickel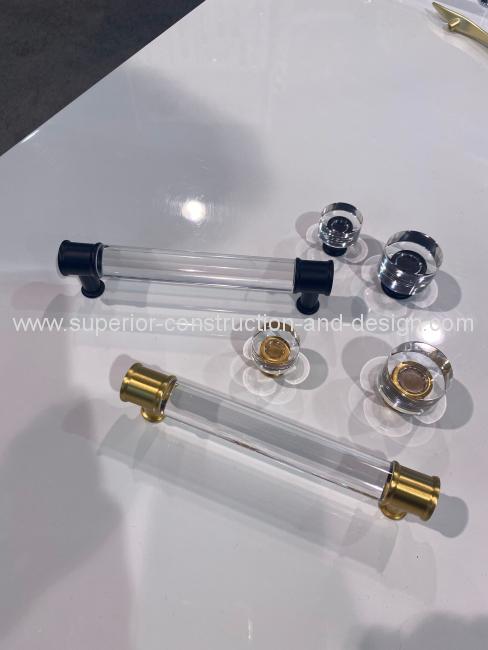 I love these handles and pulls by Belwith Keeler!  These would look stunning in a bathroom, adding a classic shape, a touch of shine, and simple elegance!

These appliance pulls by Belwith Keeler take things up a notch! I've always considered lighting the jewelry of the home, but I think I'll add pulls and knobs to that list!
6. Cabinet Panels by Art for Everyday for a Quick & Classy Refresh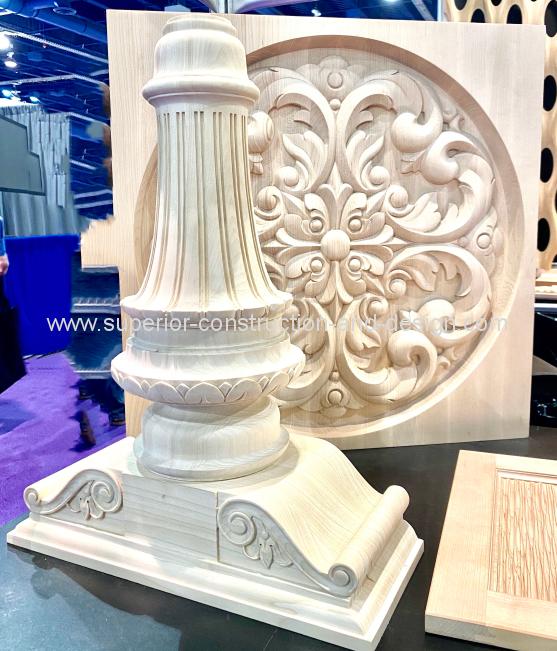 Cabinet panels are such a great way to update old cabinet doors in a kitchen refresh! I love these designs and could see them working in a traditional kitchen that feels modern and exciting!
7. Detailed Moldings for Touches of Classic Character

Art for Everyday was a new vendor I found — and I loved all their detail moldings. If you want to talk about classic, traditional character, millwork is the way to go!
8. Clean Edged Furniture with Elegant Brass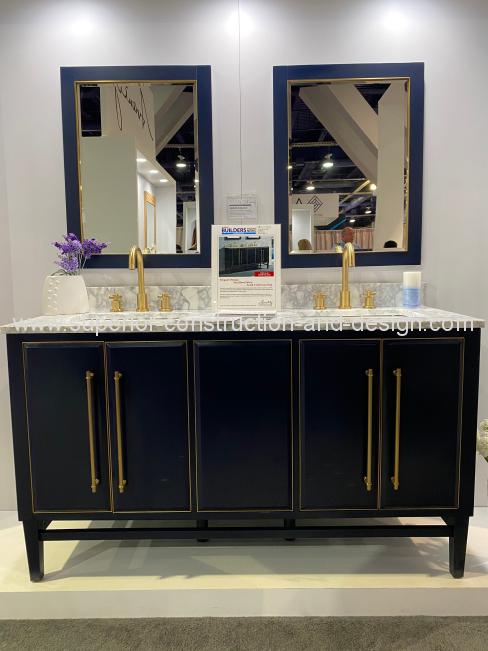 LOVE this. The shapes feel so fresh and clean. The beautiful stone speaks for itself. (Am I right?) But it's the touches of elegant brass that really liven things up!
9. Wall-Hung Toilet for More Space in the Bathroom!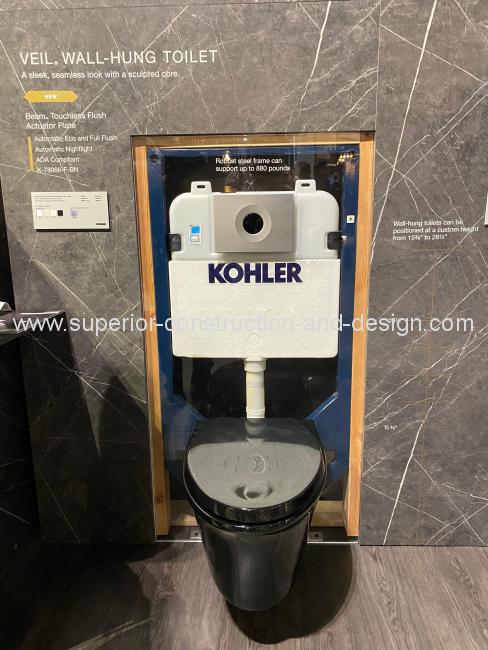 This new wall-hung toilet system by Kohler has the tank and everything inside the wall! Imagine all that valuable real estate you now have in your bathroom! Plus, this model lets you wave your hand over that sensor to flush — SUPER cool! Welcome to the future, y'all. 😉
10. Kohler Goes Big with Simple Design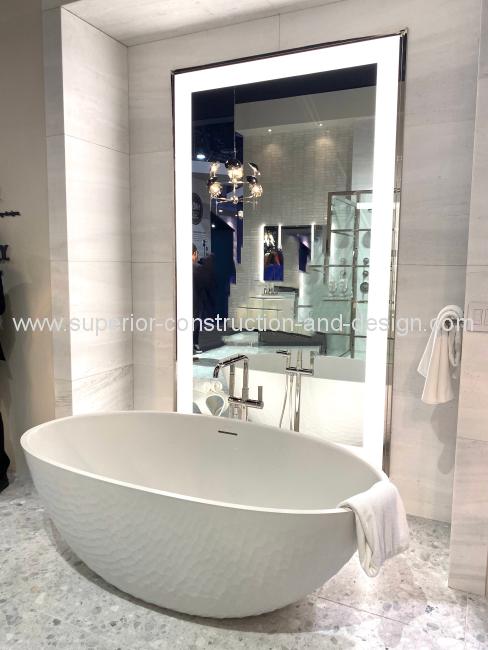 I LOVE this mirror and tub by Kohler. At a glance, it is so stinkin' simple. Beautiful, hammered, free-standing tub. Huge, oversized mirror. But it's just so darn PRETTY. Proof that we don't have to do "all the things" to have a beautiful home!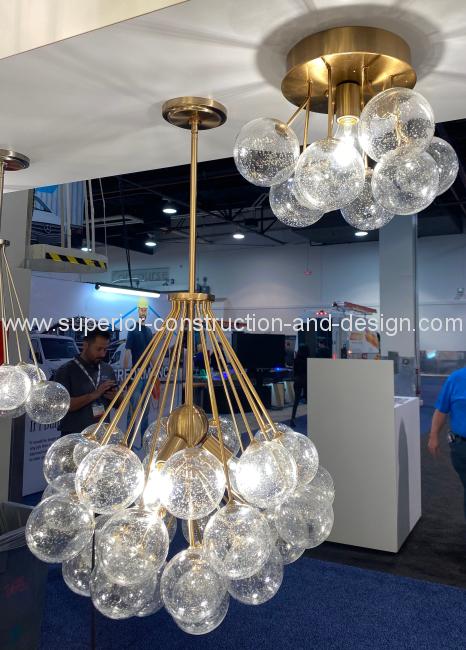 I love this chandelier design by Generation Lighting. It reminds me a bit of the chandelier we put into the Scruggs Remodel… but much bigger! This beauty would definitely be a statement piece!
12. The Kitchen Goes Digital!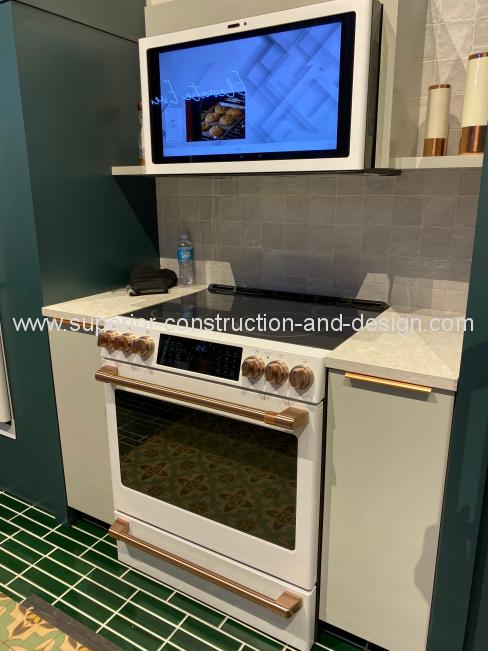 Again from Cafe Appliances by GE, this white range with the interchangeable copper handles – LOVE! And this oven hood has a computer monitor on the front!! Imagine pulling together a dish without having to use your fingers to light up your iPad for the recipe every 10 minutes! (I know you know what I'm talking about!!)
13. Art in Unexpected Places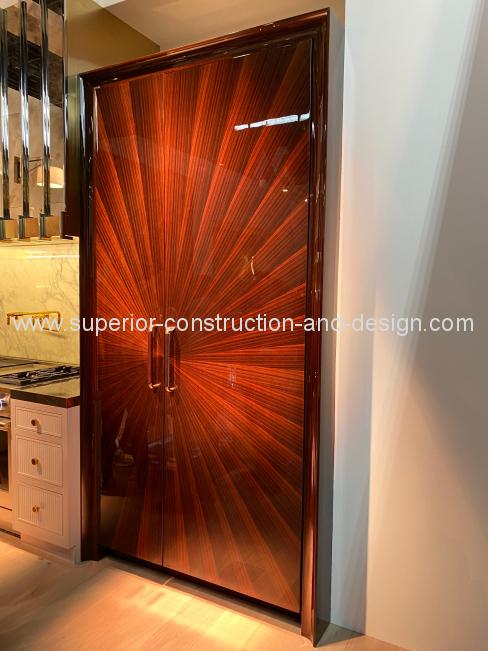 This refrigerator was designed by Richard Anuszkiewicz, an amazing designer who designed Monogram's booth that won Best of Show at KBIS. Coolest part, Richard recently moved to Nashville! He is one of my favorites and super precious! He is as kind and genuine as he is talented.
Here's another of his creations…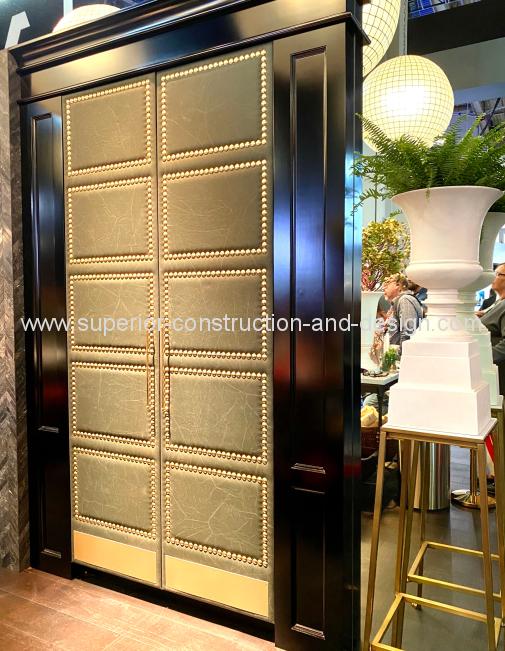 Another WOW refrigerator design!
Everyone at KBIS wanted to speak to Richard, and I was lucky enough to get a pic with him.  This guy is the real deal y'all.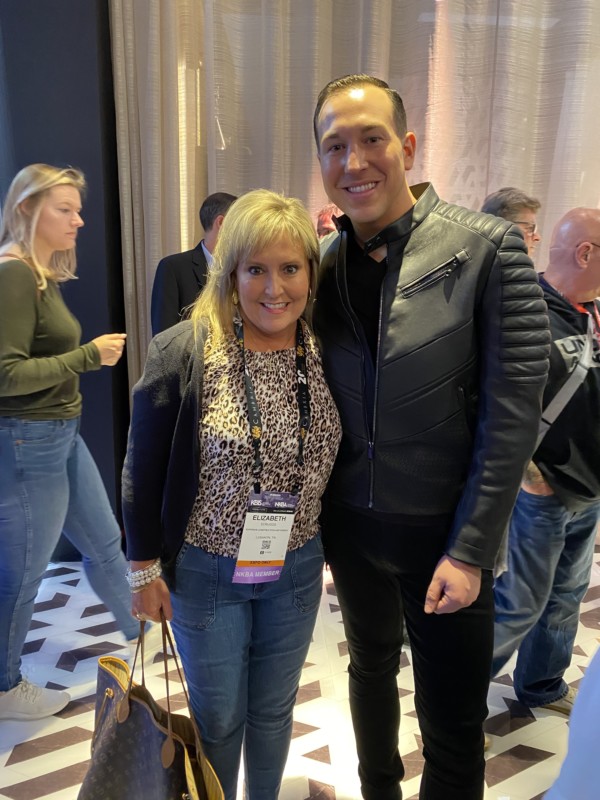 And speaking of wow, I saved my favorite for last…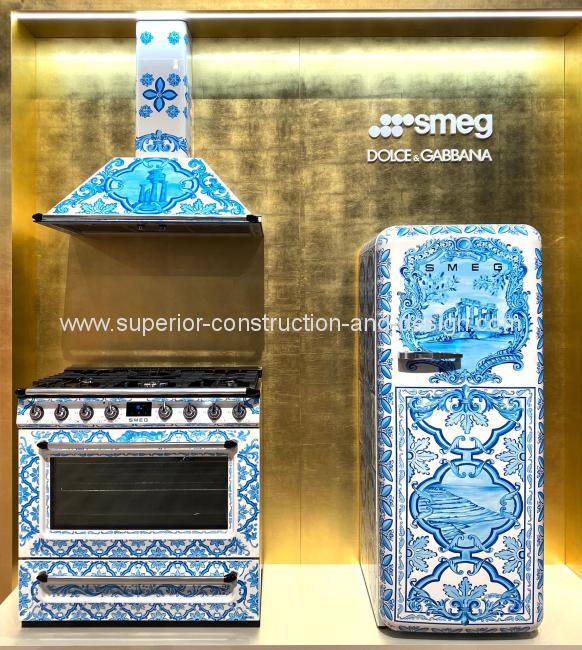 CHINOISERIE appliances!!! Seriously! GIVE ME ALL THE BLUE AND WHITE!!! This Smeg collaboration with Dolce & Gabana literally stopped my in my tracks.
It's been 2 weeks and my heart is still beating quickly over these two. 😉
I also can't resist sharing a personal victory — I sat for the Remodeling Specialist exam by NKBA and earned my specialty badge! The NKBA has a micro-credentialing program that recognizes the knowledge of professionals in our fast-changing industry. It's a great way to show that we're up on the times, the industry, and on treating our clients to the best experience possible! Definitely worth the time and effort!
And last but not least, some smiles to wrap it all up! Meet one of my design besties, Lori of Lori Miya Designs and Leah, my rep from All-South Appliances!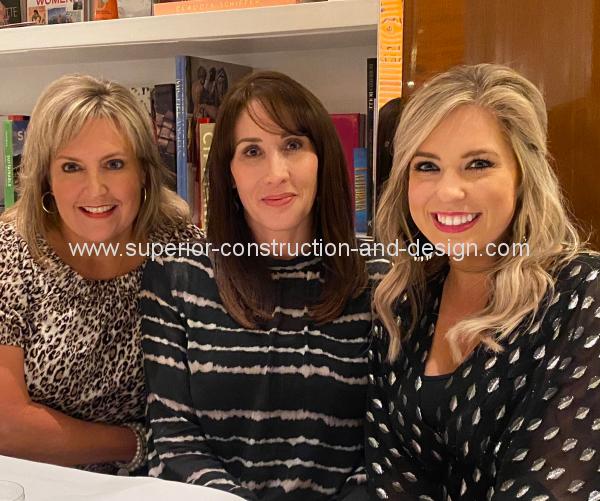 And that's a wrap!! I hope these 13 finds were worth the wait! I'd love to hear which was your favorite in the comments below! The chinoiserie fridge? The hidden toilet tank? The shiny brass pulls? Let's hear it!
Xo,
Elizabeth