the one thing you MUST have before any renovation or new build
July 31st, 2017 | by Elizabeth | Posted in remodeling | #design, #remodel, #renovate

okay.

so I really think this is so obvious.

but……I've learned lately that just because I think something is obvious, doesn't mean that everyone thinks so.
so what's the one thing you HAVE to have before starting any reno or new build??
A PLAN.
I know, right???
but hang in there with me, because more often than not….I mean, I'd say around 90% of the time- when a prospective client calls me, it goes something like this:
"yeah….well, we know what we want. and we've done most of the work already ourselves. we just need a little guidance on finishing it up. you know….choosing colors, light fixtures and all that stuff. the fun stuff!! it'll be easy. won't take long at all. just a few things, really. so can you come tomorrow??"
oh yeah.
the "fun stuff."
it's easy! it's fun! won't take long!
read:
HELP!!!!
we are absolutly going to kill each other if someone doesn't rescue us from ourselves soon!!!
HE has no idea about anything!! HE has no taste!!! I told him that faucet wasn't the right size!!
SHE thinks we are made of money!! SHE thinks I'm going to live with floral wallpaper??? REALLY????
YOU HAVE TO COME HERE. NOW!! TOMORROW!!!!! SOON!!!!
(so this is a slight exaggeration, but you get the picture…)
see… here's the thing.
if you start a project without a plan, the age-old adage, "failing to plan= planning to fail" begins to become very clear.
depending on what room you are renovating, there are any of number of issues that must be addressed. and if you don't plan ahead of time, and plan ALL OF THE SPECIFICATIONS OF THE PROJECT AT ONCE, you will have issues.
each decision hinges on another decision that hinges on another.
when I come in on the backside of a project, or even in the middle of one, it's so hard to piece together what has been done and what has not been done if there is no plan.
renovating a bathroom??
did you consider the size of the sconces on either side of that mirror, the location of the rough-in, and that they will overlap into the mirror??
renovating a kitchen??
you wanted a pot-filler? well, that should have been roughed in before you installed the cabinets.
with a good plan in place, even if surprises arise, you will be prepared.
(and surprises ALWAYS arise.)
"the fun stuff" becomes NO fun without a plan.
so although this post may be obvious to me, hopefully it will save someone a lot of heartache down the road. just because something looks easy or fun- that's not always the case.
and if you need some help, don't be afraid to ask! I love consulting with clients on a reno or new build before they begin with a plan review!
in other unrelated news…
---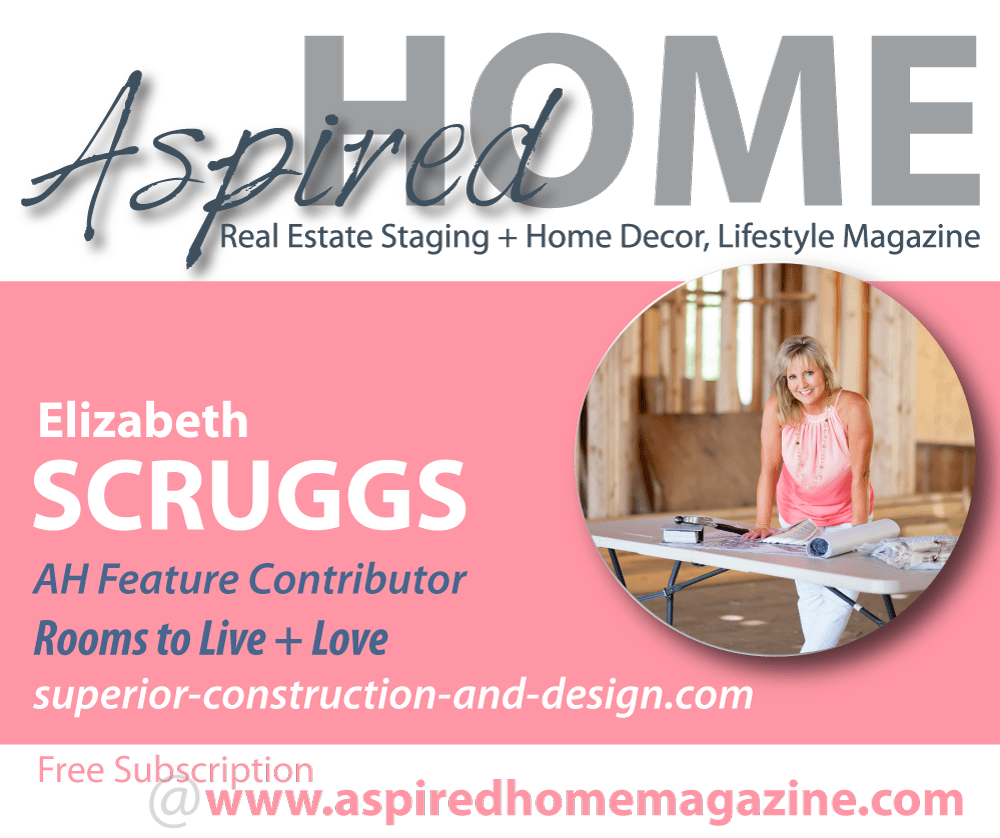 many of you may have seen my news this week that I will be a feature contributor and technical decorating editor to Aspired Home Magazine. I'm absolutely tickled to be involved in this project as it is the first of it's kind online- an international real estate staging and home decor magazine with great article content from leaders in both industries!
so I posted the above graphic from our publisher on all my social media outlets- subscriptions will be free in the beginning and I want all my clients and friends to have a free charter subscription. however, when I posted the graphic, it also posted a "sign-up" box below the graphic. this auto-generated from my FB page, and is to sign up to receive blog posts. so in case you clicked that box, instead of the link, please click HERE for the subscription.
if that is what happened to you, I so appreciate you attempting to subscibe to the mag, and I'm equally as happy that you are here on the blog! I hope you like what you see and decide to hang around!
comment below and let me know what you think of my plan advice….have you ever taken on a project without planning first?