out of my comfort zone…
February 6th, 2017 | by Elizabeth | Posted in design, home & garden, outdoors | #bonus room, #bookcases, #built-ins, #outdoors, #trundle, #wild west

Last week I told you I was putting the finishing touches on a room for some clients the next day….and the room was a bit atypical of my usual design schemes. I have to admit, when I met my clients last year, I was a bit unsure of just how I would please them. Lions, and tigers, and bears (oh my!) are not usually given a second thought when I'm designing a space. But here? Here, they would be the center of attention.

You see, my clients are avid travelers, and before relocating to Tennessee, lived out west for many years. They love the outdoors, and the lady of the house has a certain affection for bears. The first thing she showed me on our intial consulatation (and the last thing I hung last week!) was one of her prize posessions- a small bearskin. And THAT was the inspiration for the room.

Well alrighty then.

As I left the consult that day scratching my head, I thought to myself….."well, it would probably be better if you go ahead and bow out gracefully now before you design something for them that is in NO WAY, SHAPE, OR FORM WHAT THEY WANT BECAUSE YOU HAVE NO CLUE ABOUT THE OUTDOORS, WILDLIFE, BEARS AND THE LIKE!!"

However…..this couple.

They are just SO precious and make me smile literally every time I talk to them, and I so wanted to work for them.

So……on I forged.

On a wing (NO pun intended) and a prayer!

The project is now complete……and I never thought I'd say this, (because I was so unsure about creating the space they envisioned) but I'm so sad. As is the case with most of my clients, we became friends. When you spend so much time with people in their home, it is almost inevitable. They have become dear to me, and have told me so many stories of their adventures through the years……I'm going to miss spending time with them.

Here is the space before: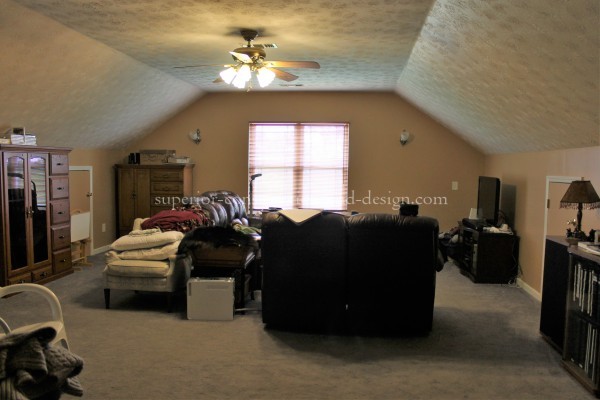 They asked for a multi-functional space. They wanted this room to serve four purposes:
extra area for eating/ game playing
extra sleeping space for visiting adult children and grandchildren
tv viewing area
office area with possible built-ins
And here is the completed design: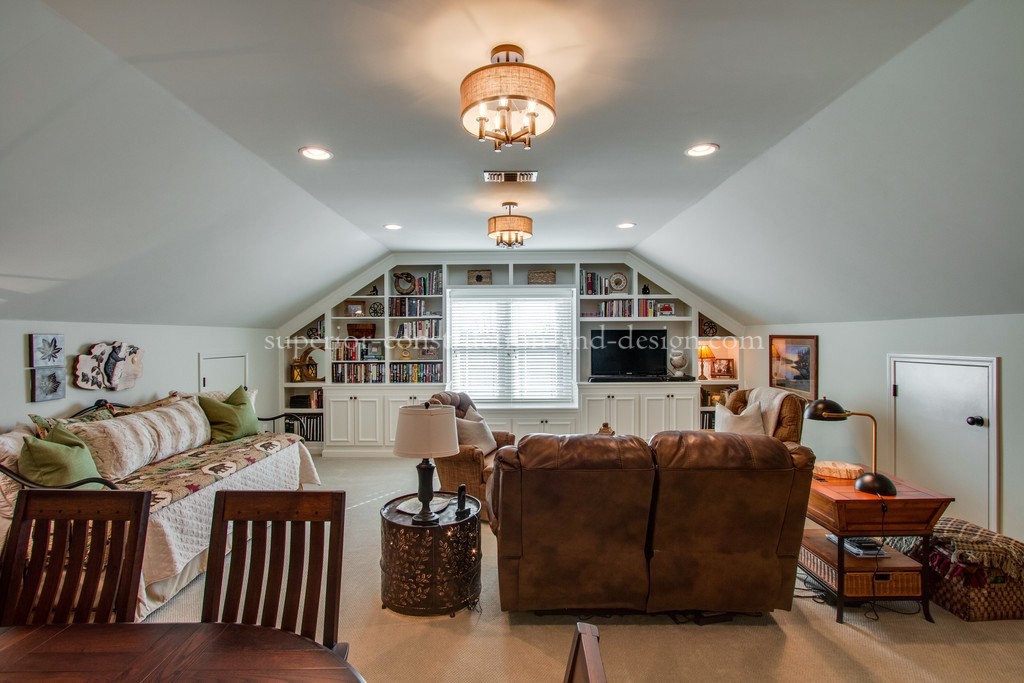 We began by removing all the old flooring. We then scraped the textured ceilings. I created a new lighting design plan that included removing the single ceiling fan, and adding two ceiling mount fixtures, recessed lighting, and also added some floor plugs. In the above photo you can't see- but there were two doors on the left side of the room to the attic. We closed one of those in, giving additional wall space to utilize. Specifying a calming and light color, we painted out the entire space and wrapped the color from floor to ceiling- even the millwork (save the built-in).
And then….the built-in.
I mean…does it get anymore amazing? My super-calafragilistic-expe-alidotious trim carpenter built this AH-MAZING specticle of a bookcase/ windowseat/ storage unit that spans the entire back wall, framing out the window with an oh-so-cute window seat. Let's get a bit closer look, shall we?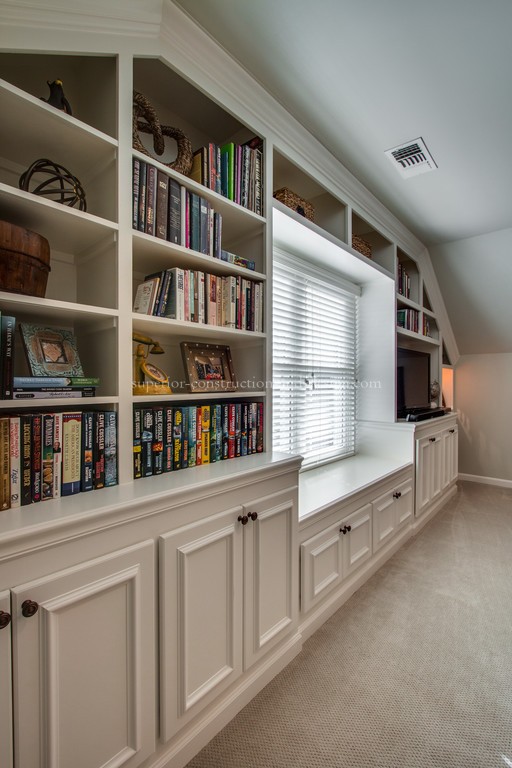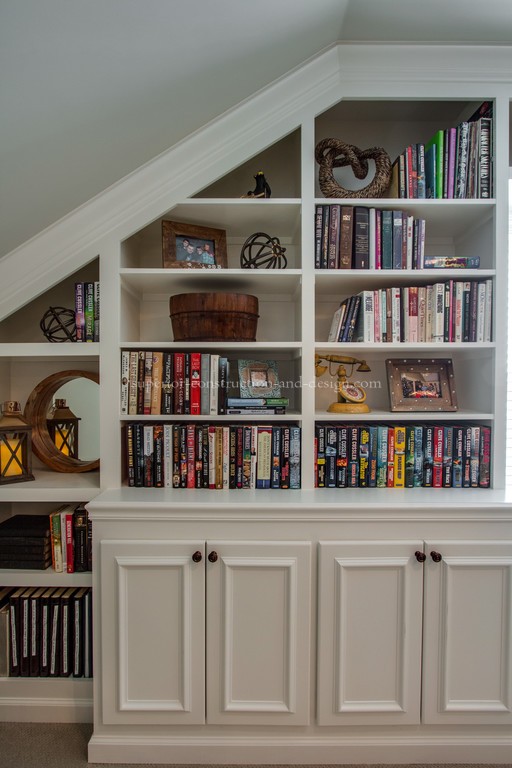 Oh how I smile every time I look at it!
My clients are book lovers…did I mention that??? Another reason I love them so much!
Here's the room from the opposite side:
Before (precious Mrs. L, always smiling! and Mr. L-ducking from the camera) :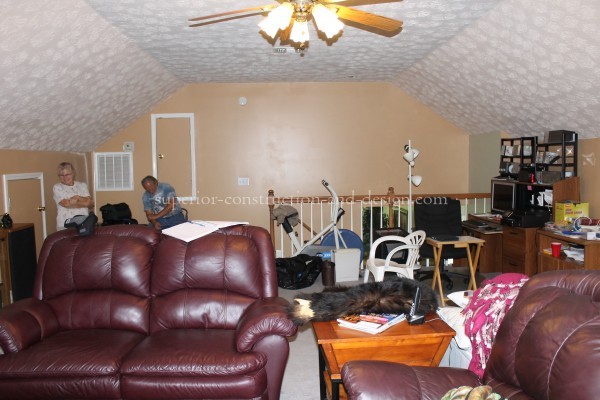 (and there's the little bearskin…..forelorn and lonely, waiting on the the end table to take it's rightful place in the room……)
AND NOW!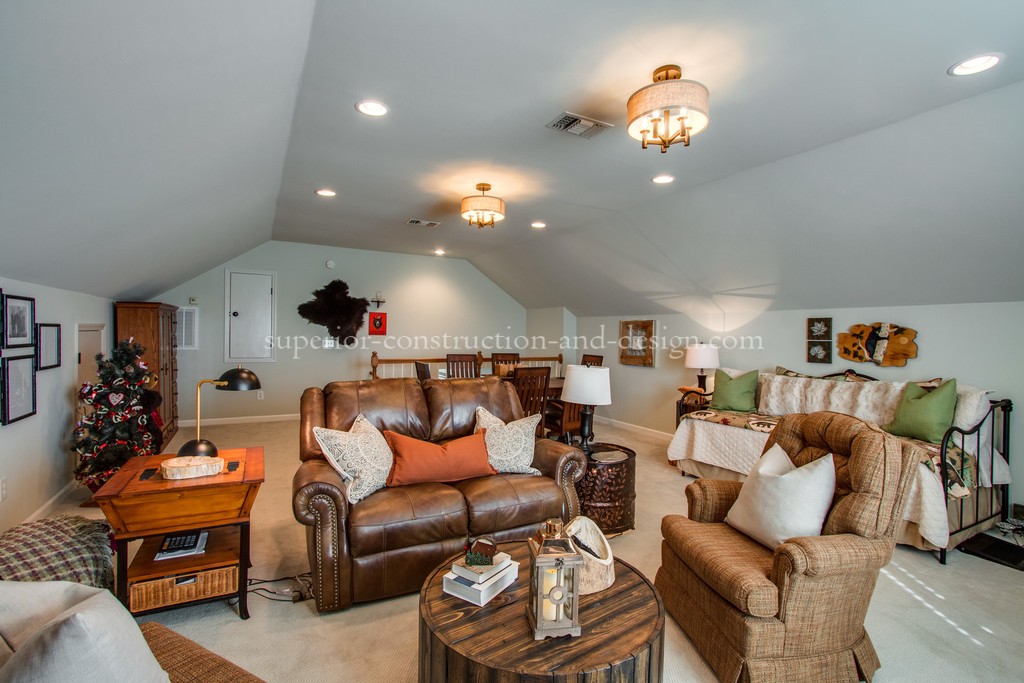 From this angle you can see the sitting area designated for tv viewing, and to the right- a beautiful iron trundle bed that raises to make a queen size bed. Behind the bed and in front of the staircase you can see the table area for eating/ game playing.
My client is of Amish descent (Mrs. L, that is) so they hopped in the car and took a little road trip up north. They do that like I hop in the car and go to Mt. Juliet. Anywho….they visited some Amish communities, and using the design we created, had an incredibly beautiful table and six chairs built. I've seen nothing quite as exquisite in my time, and it is truly stunning. They also had a rolltop desk built, but mid-project decided to move the fourth requested area (office) to another room, which worked out nicely.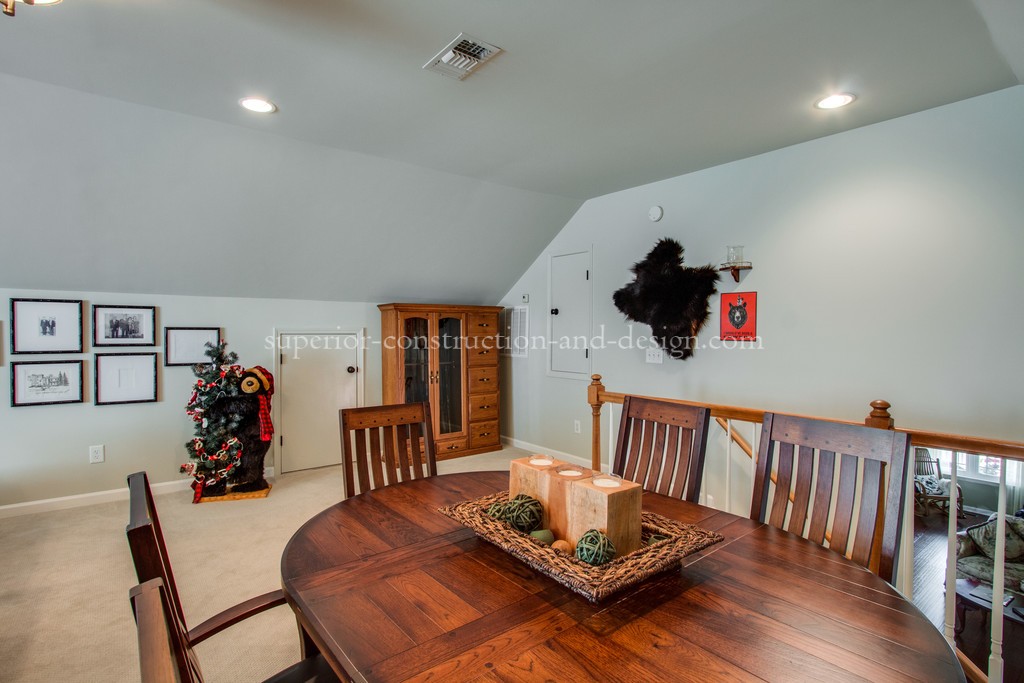 And there she is….on the back wall in all her (or his?) glory! The sweet little bearskin Mrs. L requested be the feature of her space.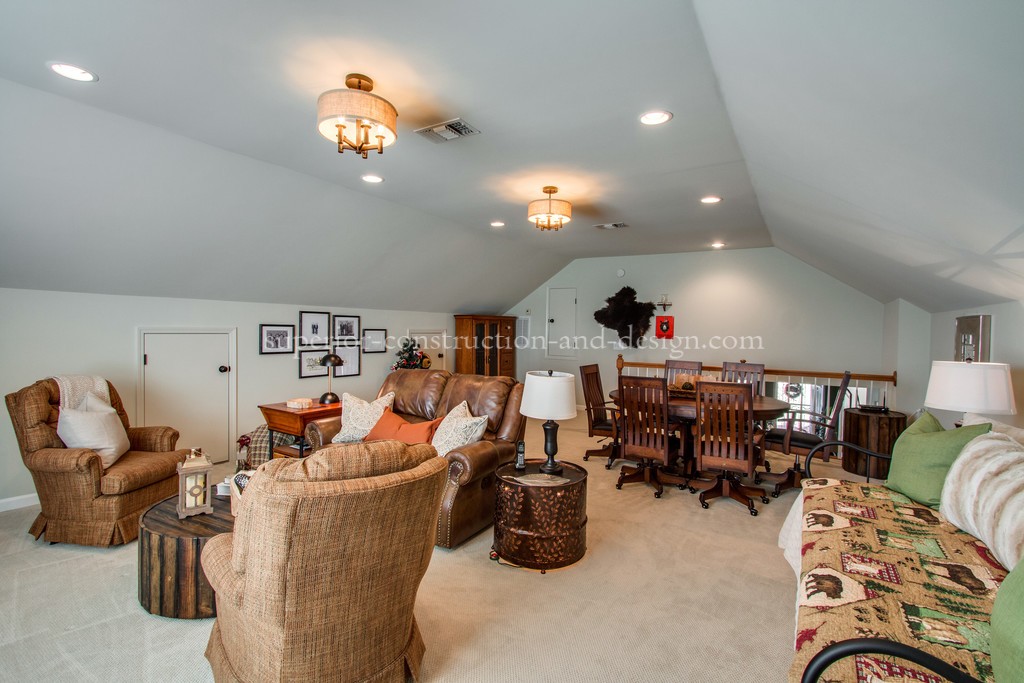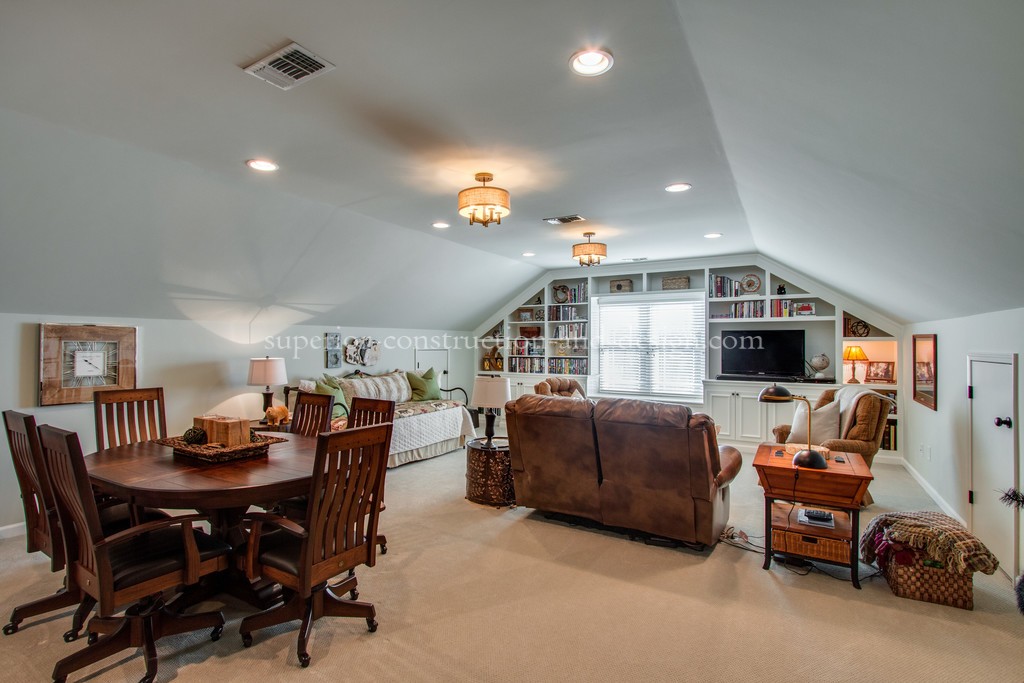 By breaking out of my comfort zone and stretching out there a bit, I found that I enjoyed the challenge much more than I thought. Fear of making a mistake causes so many good things not to ever come about.
Mr. and Mrs. L are thrilled with their new space.
I'M THRILLED with their new space!
And I've learned that the more unsure I am about a project and my ability to create it……the faster I had better jump on it!