The 4th Annual Superior Christmas Gift Guide
November 16th, 2021 | by Elizabeth | Posted in gift guide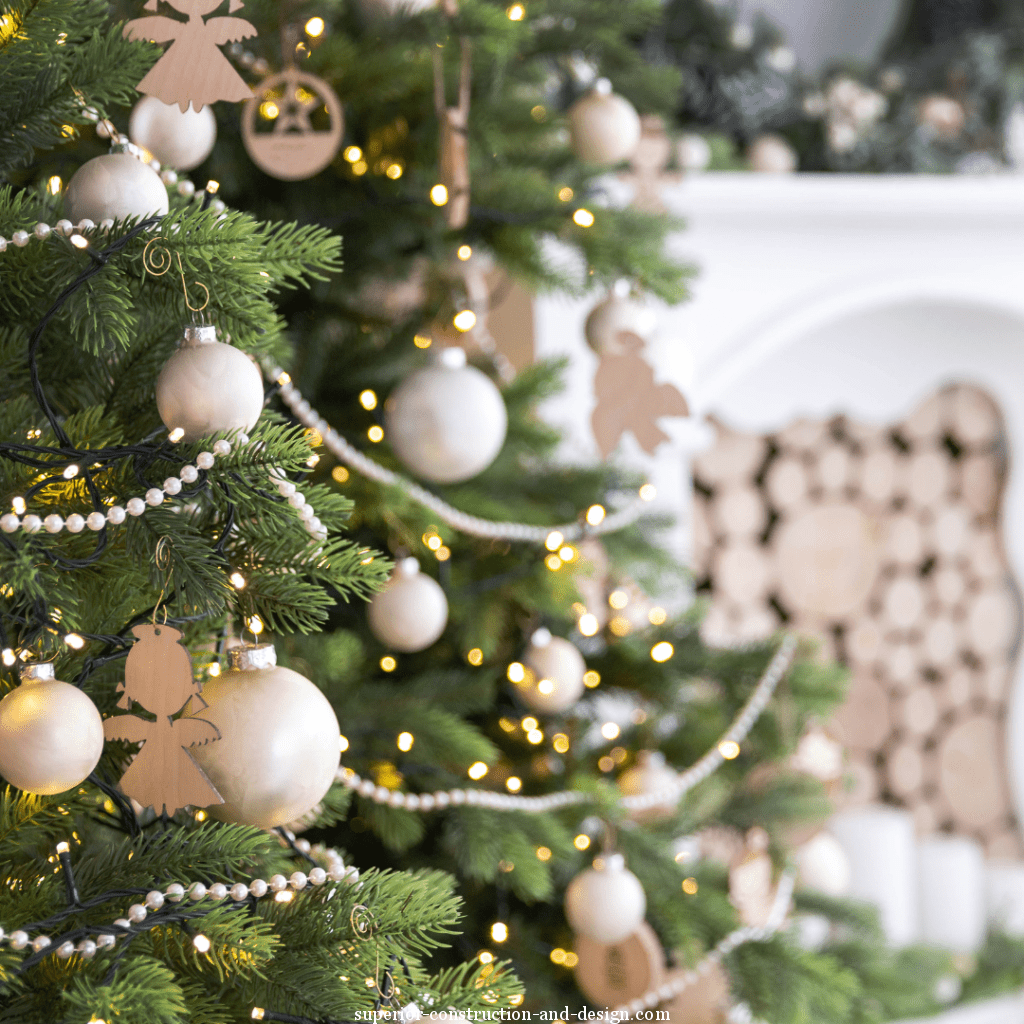 It's that time of year again! Thanksgiving is a short week away, which means Christmas is right around the corner. It's been another year for the memory books, but I think I speak for all of us when I say I am just glad it's feeling normal around here! I can't wait to gather together to make memories, spoil each other, and celebrate the reason for the season.
I'm also a little shocked this is the 4th annual Superior Christmas Gift Guide! I remember when I had the idea for this gift guide all those years ago… I wanted a place to share the products I love and get asked about ALL the time. Now, it's a much-anticipated sign that the season of giving is here again! And I still get asked about some of the same products as back then. If you saw our Gift Guide in the last year or two, you'll spot some familiar faces. 😉
This year, I asked Lenneke and Nicole if they would want to join me again in picking out some ideas for you, and they agreed. (Aren't they great?) Come see what we picked out for you, why, and where you can find it…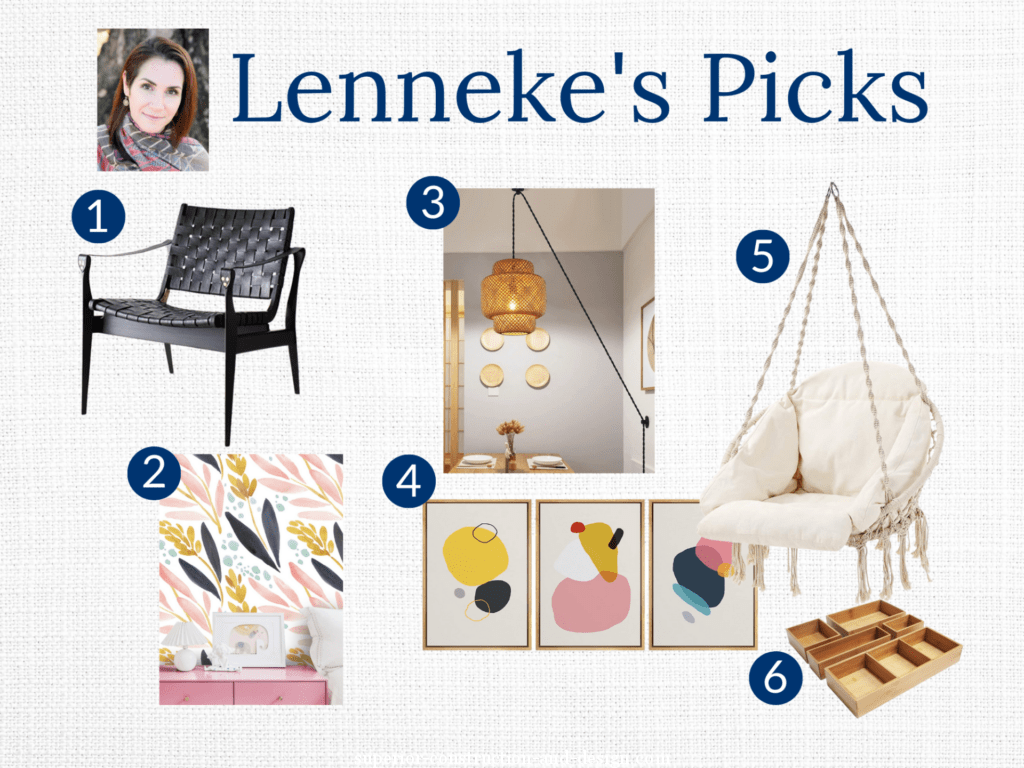 1. Safavieh Couture Safari Accent Chair / These leather chairs are beautiful, versatile, and functional. Add a pair to a room and you have the perfect conversation area. Leather is also a great material for adding a touch of luxury to a space.
2. Peel and Stick Removable Wallpaper / I love removable wallpaper because you can make a fun statement wall without the commitment and permanence of pasted wallpaper. Try it in a bedroom, as a pop of color at the back of shelves, or go big and create a fun walk-in closet.
3. Lantern Pendant in Bamboo / Create a cozy nook or brighten up a dark corner with this hanging a plug-in pendant. The best part? You won't need an electrician to install it! Easy and beautiful.
4. Framed Wall Art Print Set / You can create an easy gallery wall with fun framed prints in a variety of subject matters. Gallery walls can stump a lot of people, but this option makes beauty foolproof.
5. Cushioned Hanging Hammock Chair / I think this one speaks for itself. What little kid or grown-up kid wouldn't like a swing in their room? If you need me, that's where I'll be…
6. Bamboo Eco-Conscious Organizer / Organize your kitchen, bathroom, or desk with these handy drawer inserts in timeless and eco-friendly bamboo. What's not to love?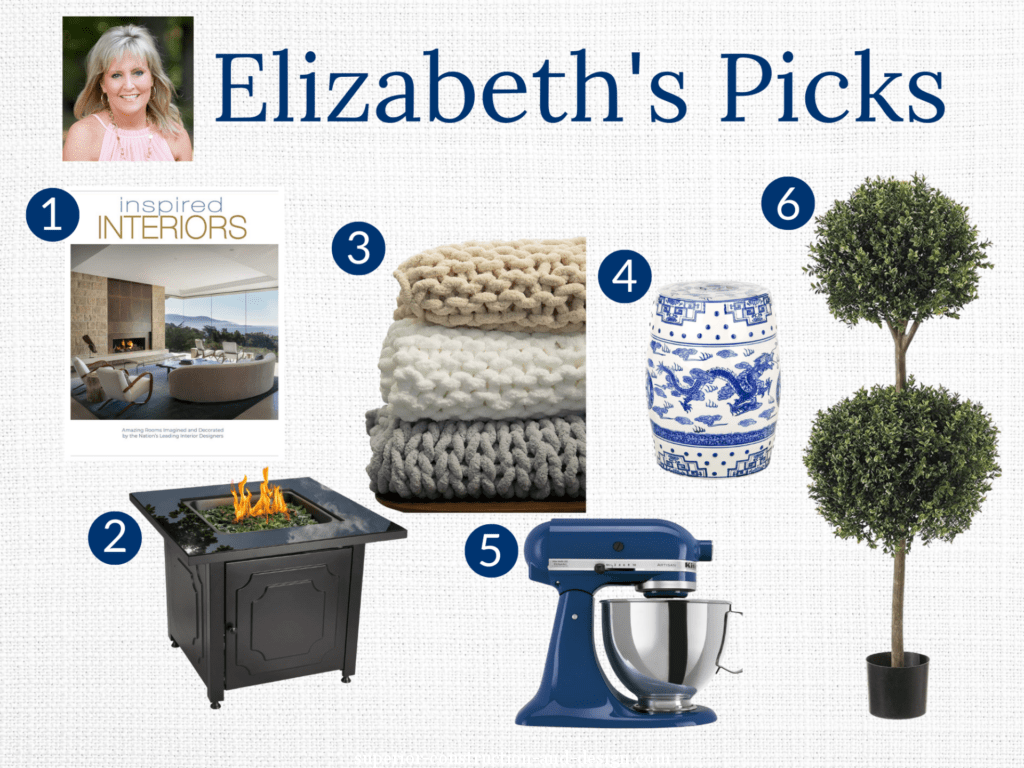 1. Inspired Interiors Design Book / My book! 2 of our kitchen designs are featured in this beautiful interior design book, Inspired Interiors. Perfect for anyone who loves design or is looking for inspiration for their home project. (Know someone who wants to build a home? This book is for them!)
2. Outdoor Fire Pit / This is my outdoor fire pit. I've shared it before but I still get asked about it all the time! If you've been considering a fire pit, I can't recommend it enough. Plus, Christmas is the perfect time to use it to roast some marshmallows under the stars.
3. Luxury Chunky Knit Blanket / I shared a chunky knit blanket last year, but it's still my go-to gift. While decor may be hit or miss with your recipient, who wouldn't want to snuggle up under this?? It's a sure thing!
4. Ceramic Garden Stool in Chinoiserie / A garden stool is a staple in an interior and this one is chinoiserie — so of course! Bonus: This beautiful accessory provides extra seating when guests arrive… or the next time you need to sit and remove your shoes in style. (P.S. Chinoiserie is a design style that's getting a lot of attention in 2022!)
5. KitchenAid Mixer / Another must-have. If you don't have a KitchenAid mixer, how do you even function?? Kidding, but I seriously love these powerhouse appliances. You can purchase accessories for it to do almost anything, and they NEVER change the style. It's definitely an investment piece, but I purchased mine in 1997, and it still runs like a champ 25 years later! Best of all, you can't even tell that I didn't just buy it last night. Classic and timeless — my favorite thing!
6. Artificial Porch Topiaries / I have these topiaries on my front porch, and again, they are something I get asked about ALL the time! Y'all KNOW I'm not a fan of fake foliage, but these are my exception to that rule. My front door is pounded with full sun almost all day, and I could never keep anything living out there. These are perfect! Spin some Christmas lights around them and voila! Instant Christmas decor. You're welcome. 🙂
There you have it — a little something for everyone on your list. I hope these help you and your loved ones enjoy the place you call home. From us to you, happy holidays!
Xoxo,
E