5 ways to add farmhouse style to your home
November 14th, 2017 | by Elizabeth | Posted in remodeling | #design
5 ways to add farmhouse style to your home
---
thanks to Chip and JoJo, our country has been swept up in a wave of milk glass and shiplap for the last several years. although I don't share their aesthetic, I totally admire the Gaines' and their Christian values and testimony. that said, here are a few tips to add a bit of the farmhouse "style" they are so famous for to your own home, and in a way that won't completely date it in a couple of years.
1. own a farmhouse
---
I can hear your collective sigh- but hear me out. what I mean is this: stay true to the style of your home and it's architecture. if your home is not a farmhouse, then don't style it from top to bottom as if it is. nothing is as jarring as entering a house where the interior is not in keeping with the exterior. adding a bit of a certain style, as it relates to something else in the space, is fine. as in anything, moderation is key.
and it just so happens that some of my most recent clients (we'll call them Mr. and Mrs. G) do, in fact, own their very own farmhouse. it's the real deal y'all. Mr. G grew up there, and he and Mrs. G have lived there most all of their married life. they raised their children there- and now their children and their families live on the acreage as well. the homeplace sits atop a hill at the front of it's 95+ acres in absolute splendor. as you can imagine, although well-maintained – at 120+ years of age, this beauty was ready for a little love. Mr. and Mrs. G had plans drawn last year to remove the back half of the original house, and replace it with an L-shaped addition of about 1200′. but as often happens, life stepped in. some family matters took precedence, and the renovation was put on the back-burner. fast-forward to this summer, and thankfully all was well again and they were ready to begin the renovation…and that's where I came in.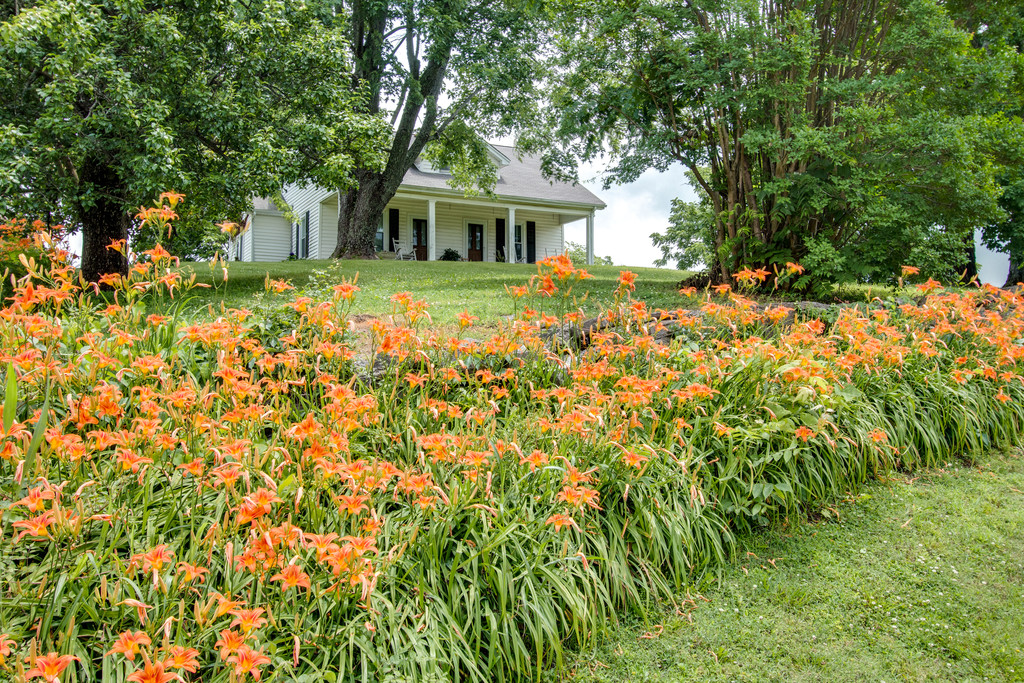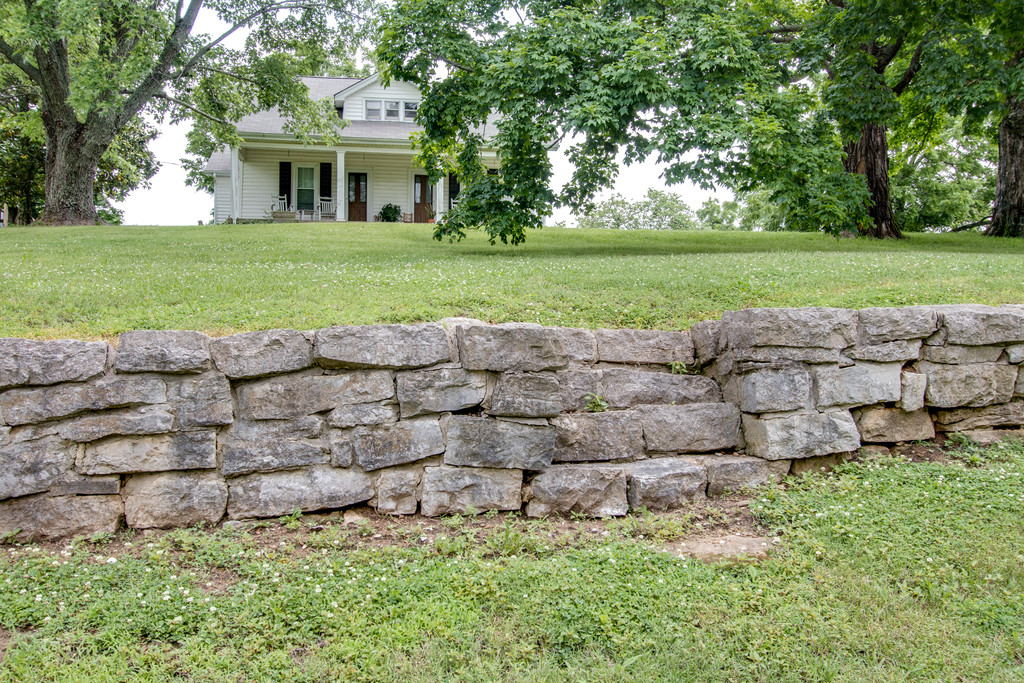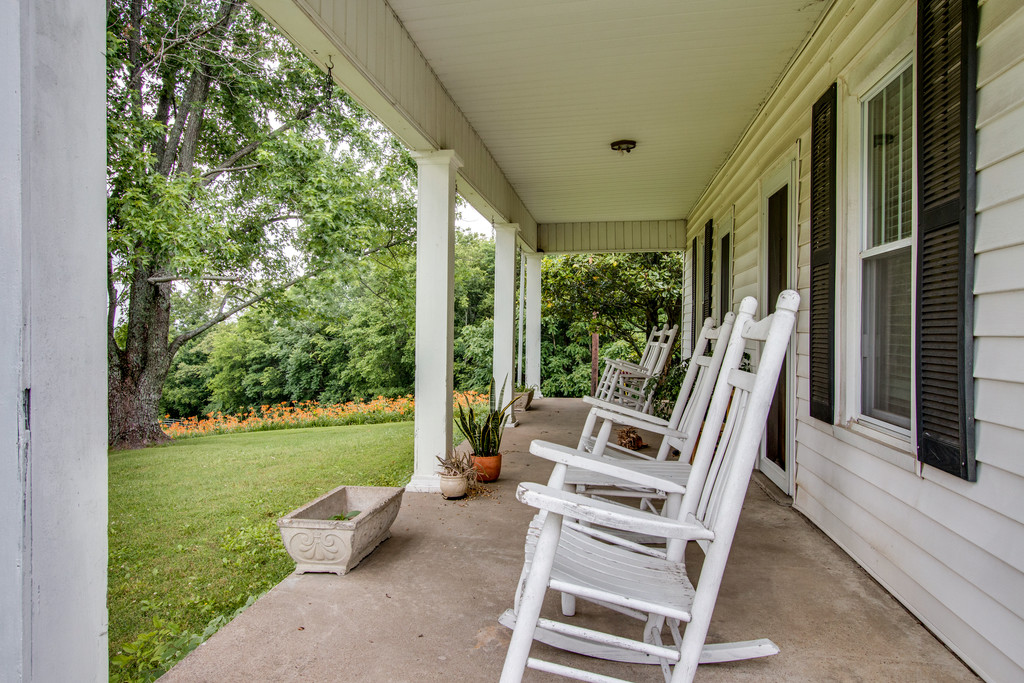 2. incorporate simple millwork
---
below is the front room of the completed addion, which is part of an ensuite for Mrs. G's mother. much of the millwork in the original structure was clean and simple as is typical in a farmhouse. we went back with one by six casings and simple crown and base to tie in as seamlessly as possible with the original rooms. we also custom-ordered the window style to match the windows in the original home.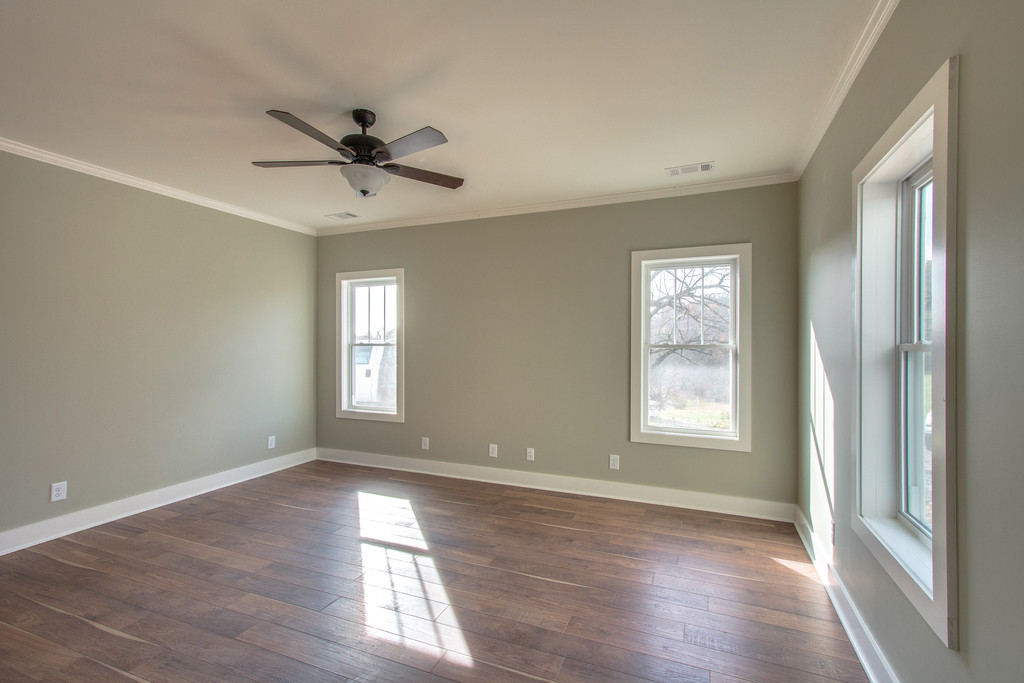 3. add antique and painted pieces judiciously
---

this is the bathroom in the ensuite for Mrs. G's mama. y'all- isn't it just beautiful? I have LOTS of favorites in the project, but one of them has to be this piece. Mrs. G searched until she found the exact piece she was looking for: an antique desk. she then restored and painted it to use as the vanity for her mother's bathroom, and all I can say is that this photo hardly does it justice. we topped it with a Cambria top and beautiful Delta faucet- and then she hung her mother's antique mirror above. pure perfection and restored with love by Mrs. G.
adding painted pieces of furniture or specific antiques in your space is a great way to lend some farmhouse style to your home.
4. wood flooring and accents
---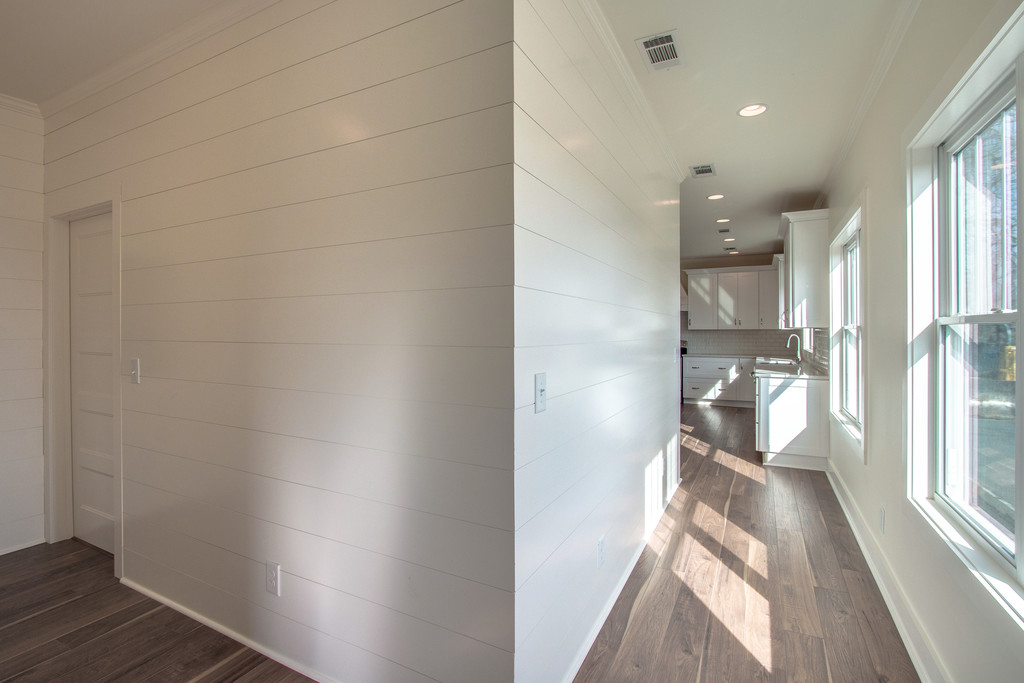 in the back half of the addition, we used a wide plank flooring for the look of an old farmhouse floor. and yes, I've made you wait for it… but here is the shiplap. use accents like this with a plan and purpose- and in moderation. this IS an actual farmhouse, and these finishes are expected here. but in my 1980's rancher- not so much. still, I could use shiplap in my home, WITH A PLAN as it relates to an overall scheme, and in moderation.
5. flat panel or shaker doors
---

real farmhouse kitchens were built for function, not design. adding flat panel or shaker doors to built-ins and cabinetry is classic and timeless- and the painted white finish works in tandem with the shiplap.
so if you love the farmhouse style but aren't lucky enough to own your own farmhouse, adding a few of these options can help you achieve that style.
the rest of the story…
---
now take a peek at some more of the before and afters of this spectacular home, but please note three things:
• my photographer was not able to shoot the exterior of the home last week because of the pod in the front yard and the machinery in the back. the exterior photos above are from before the reno. I will post after pictures of the exterior as soon as we can shoot them.
• in many of the before pictures the rooms looks disheveled at best- please realize my clients had not lived in the home in several weeks, and these photos were taken the day we were removing the back half of the house. I would not want it to appear as if this were the way Mrs. G keeps house:)
what a joy it has been to work for Mr. and Mrs. G- enjoy these photos of their amazing farmhouse beauty!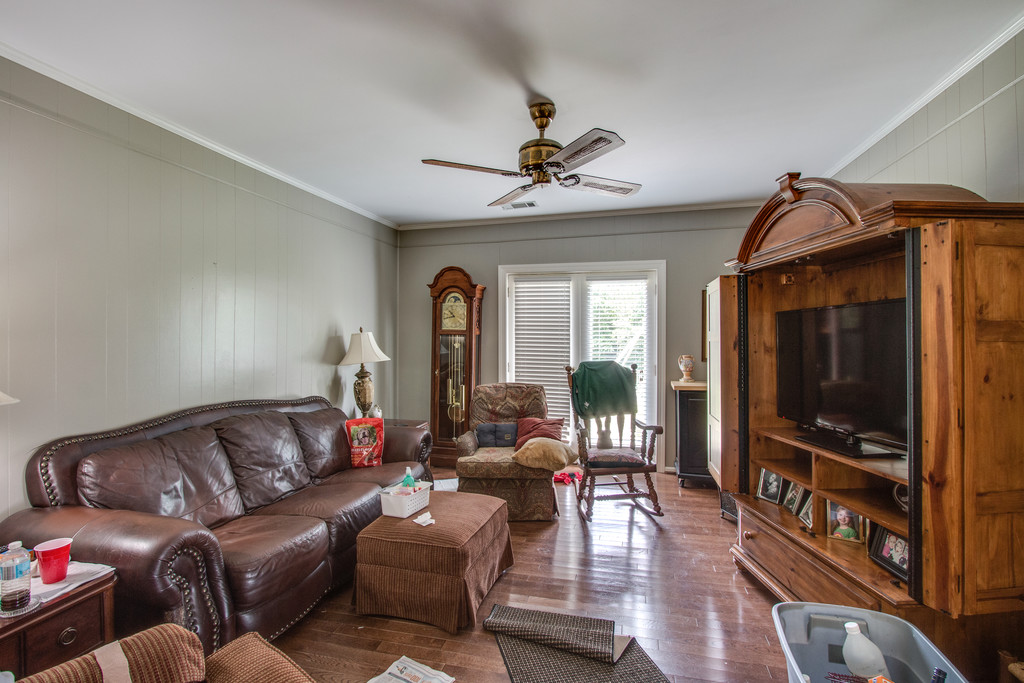 •the family room did not change much- we just added wide plank bead board to the ceiling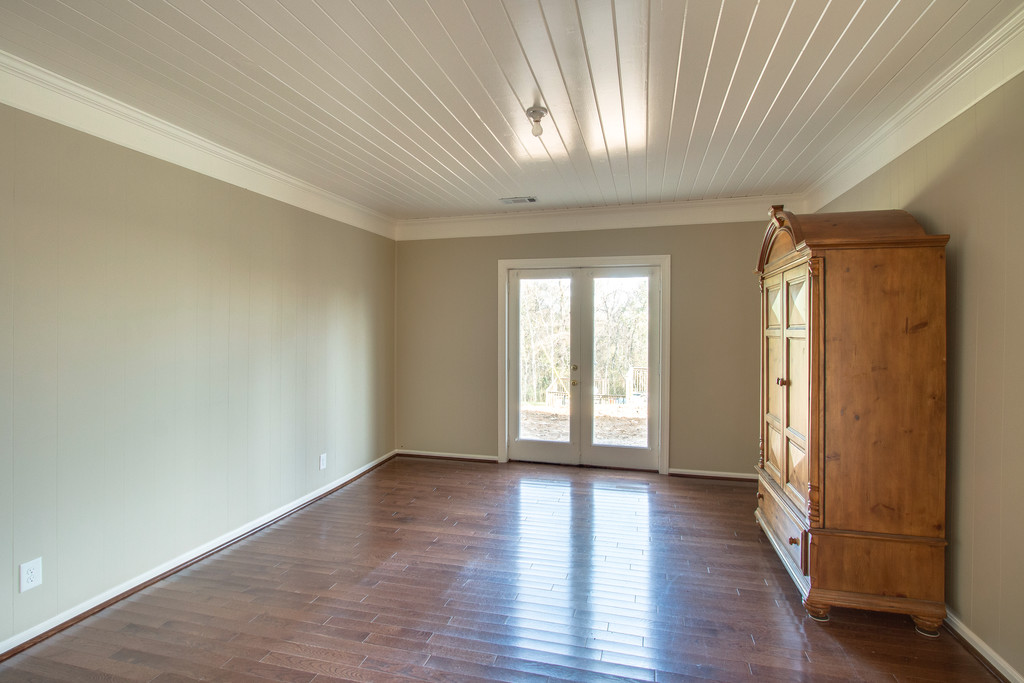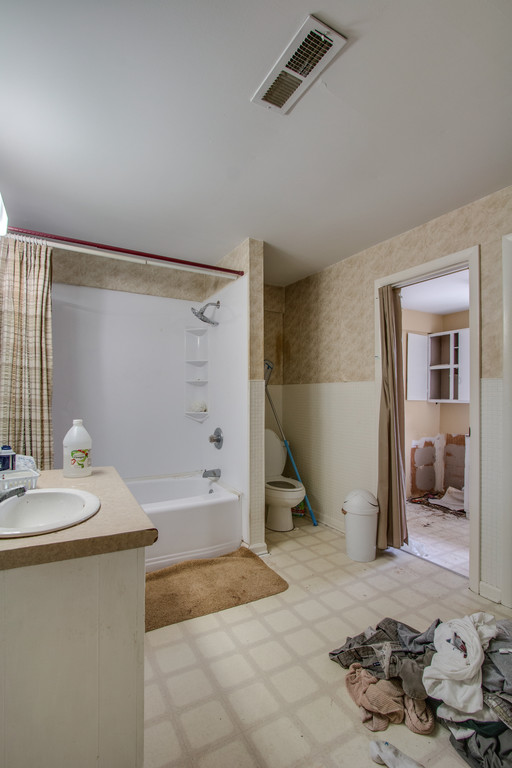 •a completely renovated master bathroom where Mrs. G used a buffet as her vanity!! how cool is that? notice we were able to replicate nearly identically the five-panel doors that are original to the house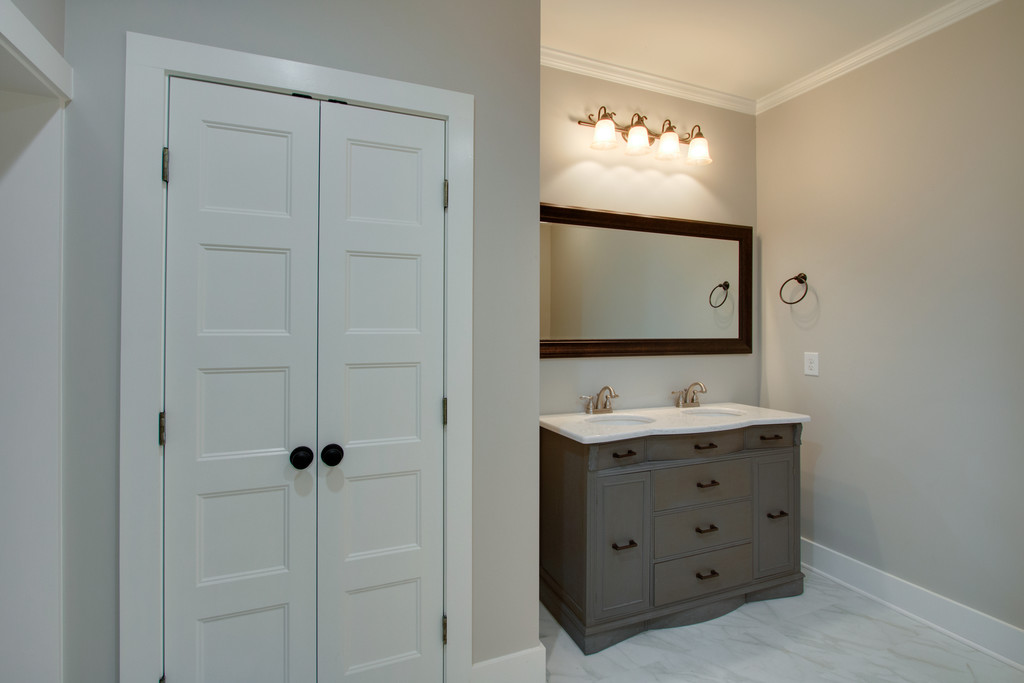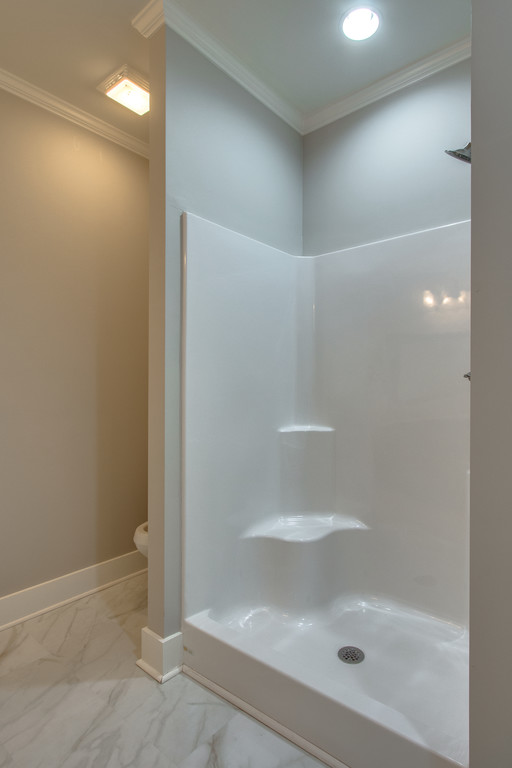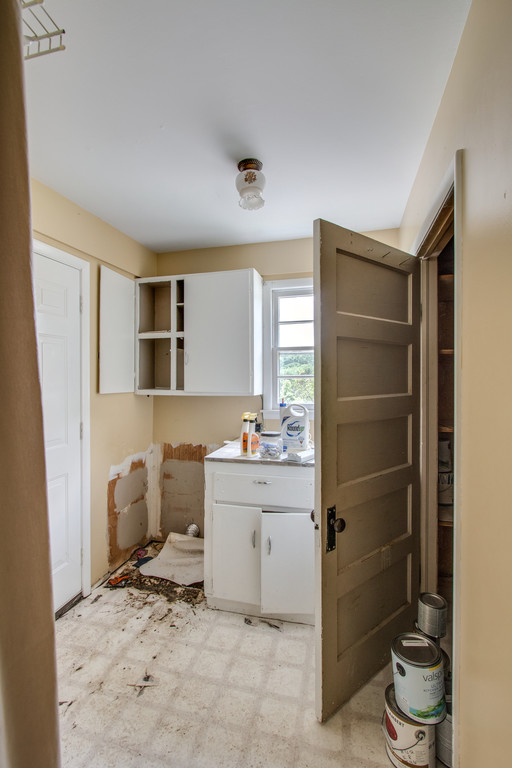 •imagine going from the small laundry space above to this beauty below! her new appliances are topped with Cambria!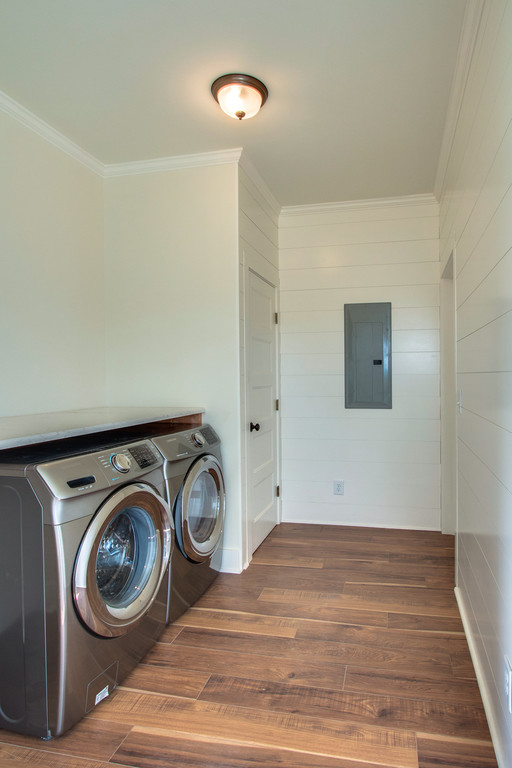 • I've saved the best for last. we ripped this kitchen and the rest of the back half of the house off- now check out what Mrs. G has to cook in!!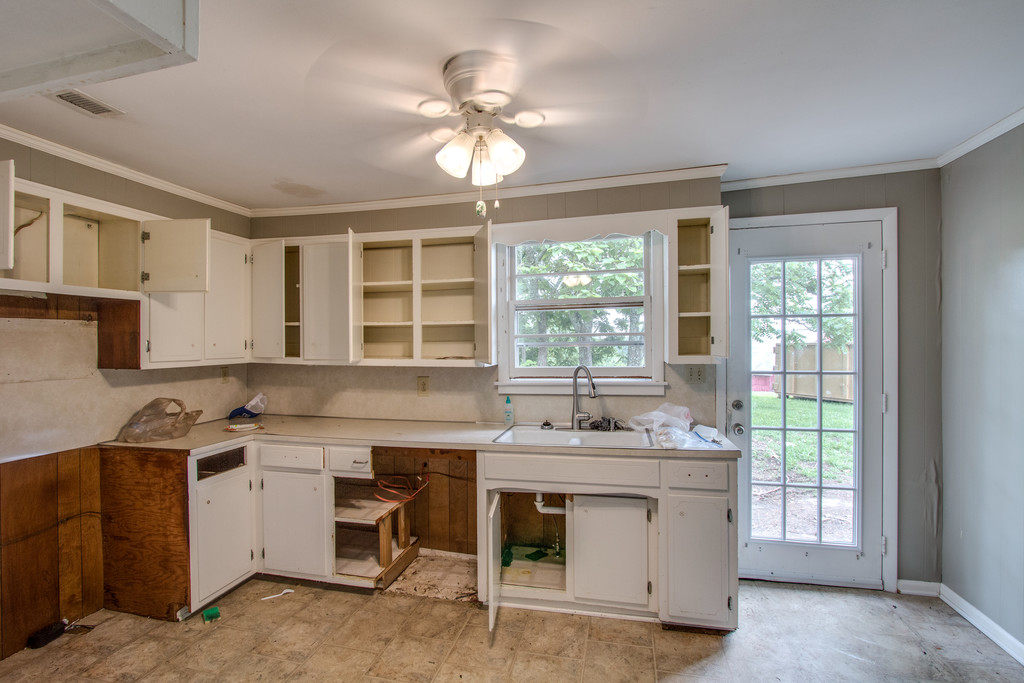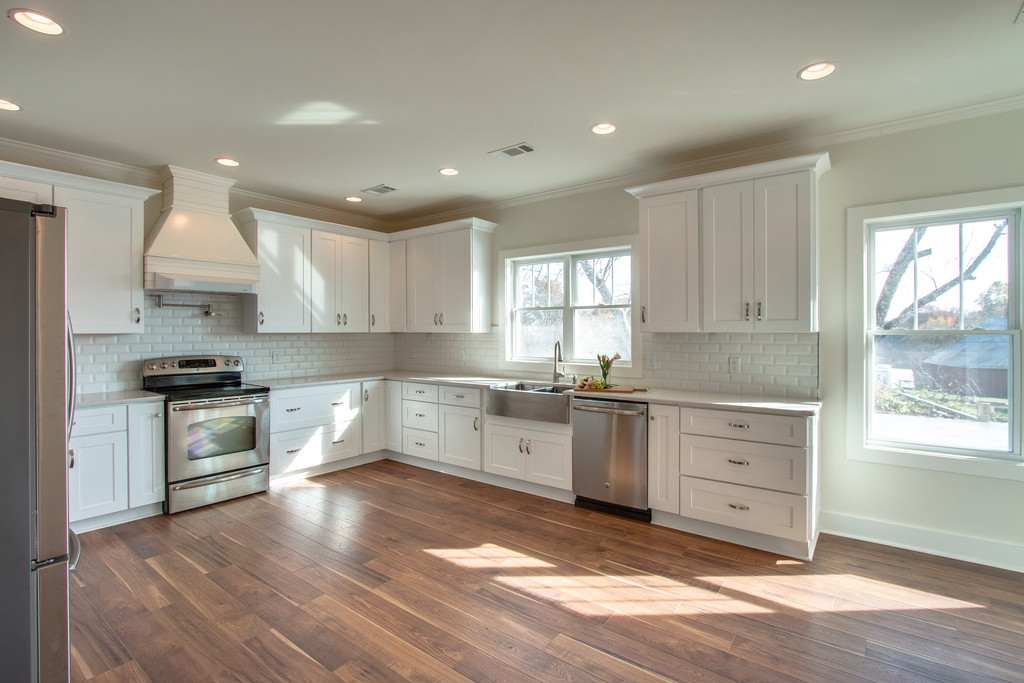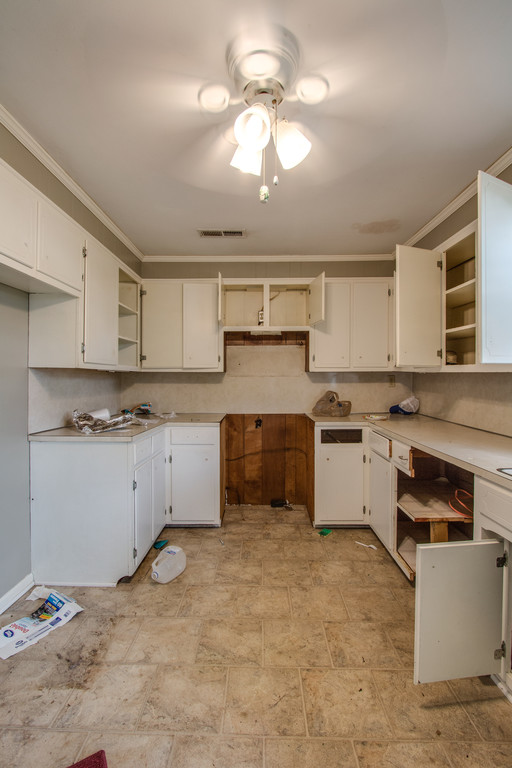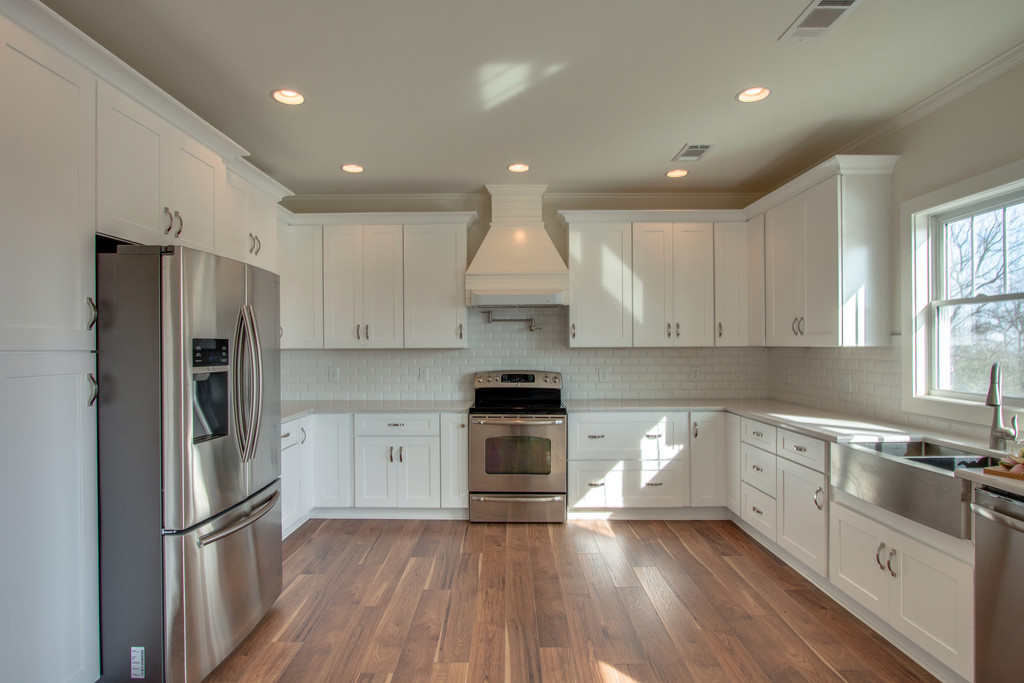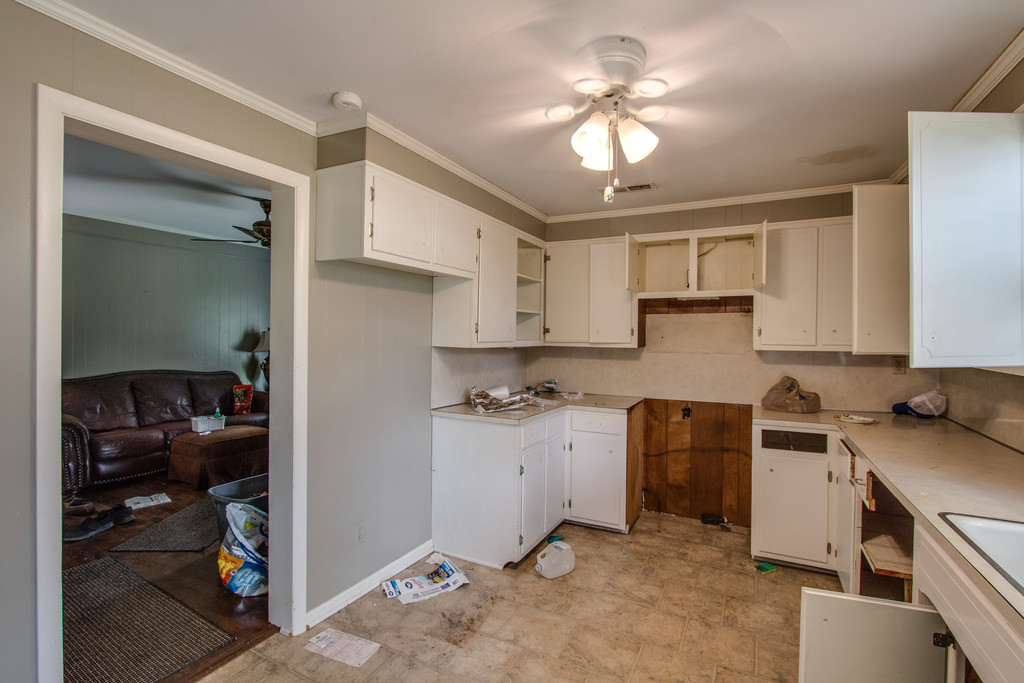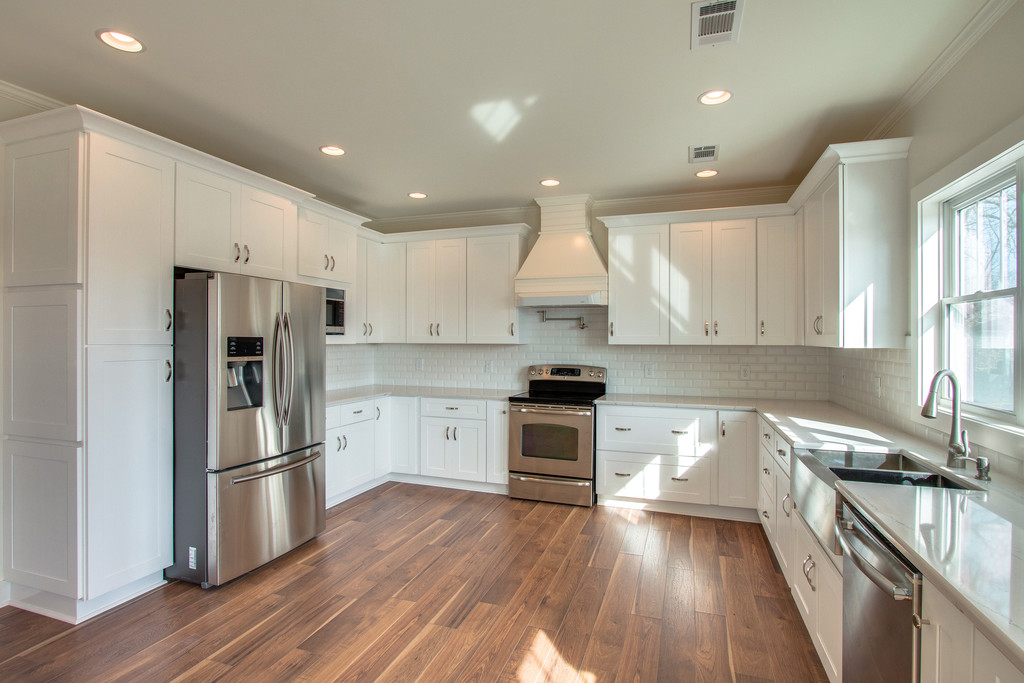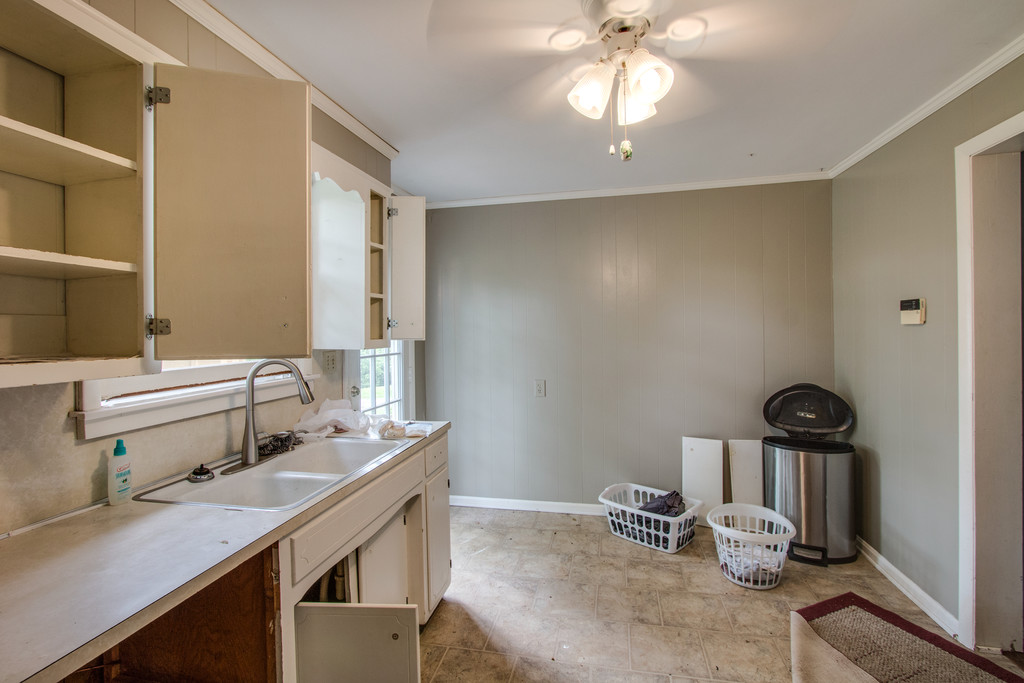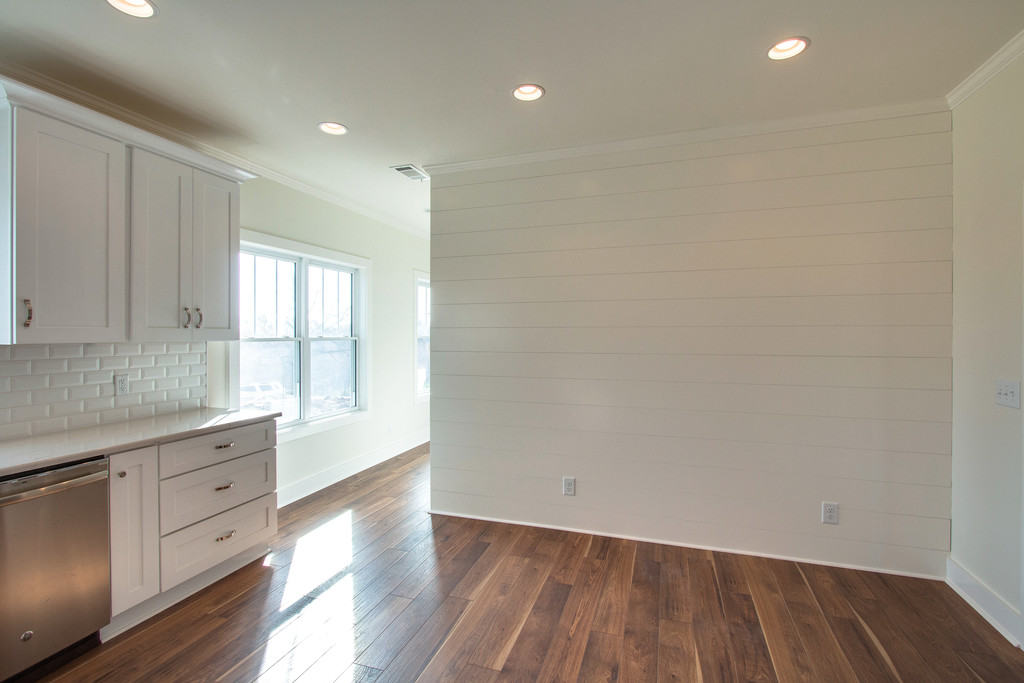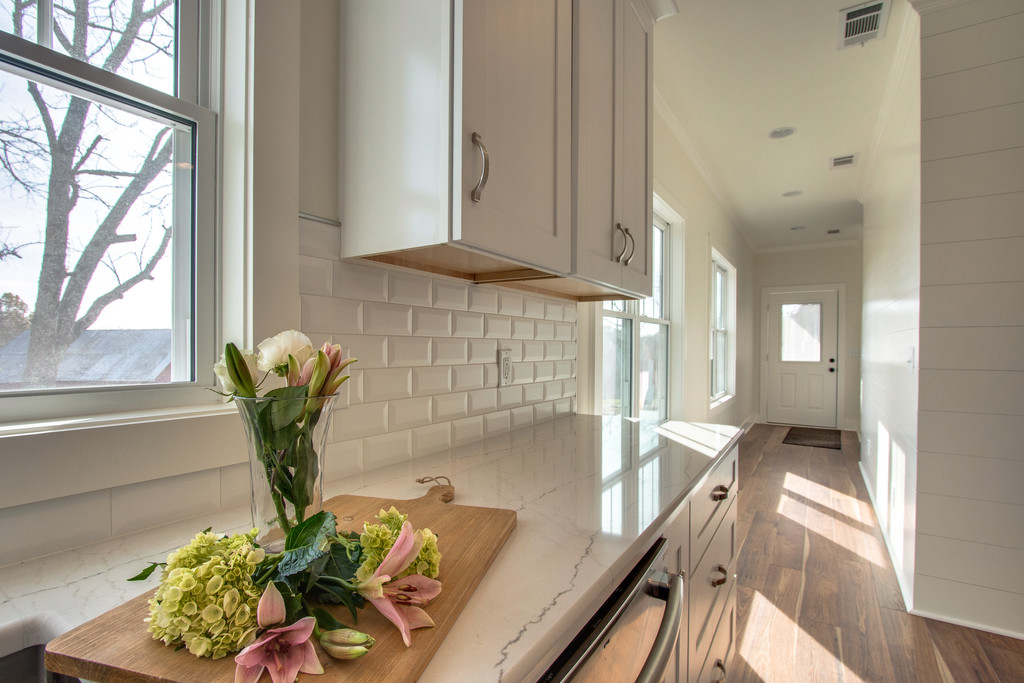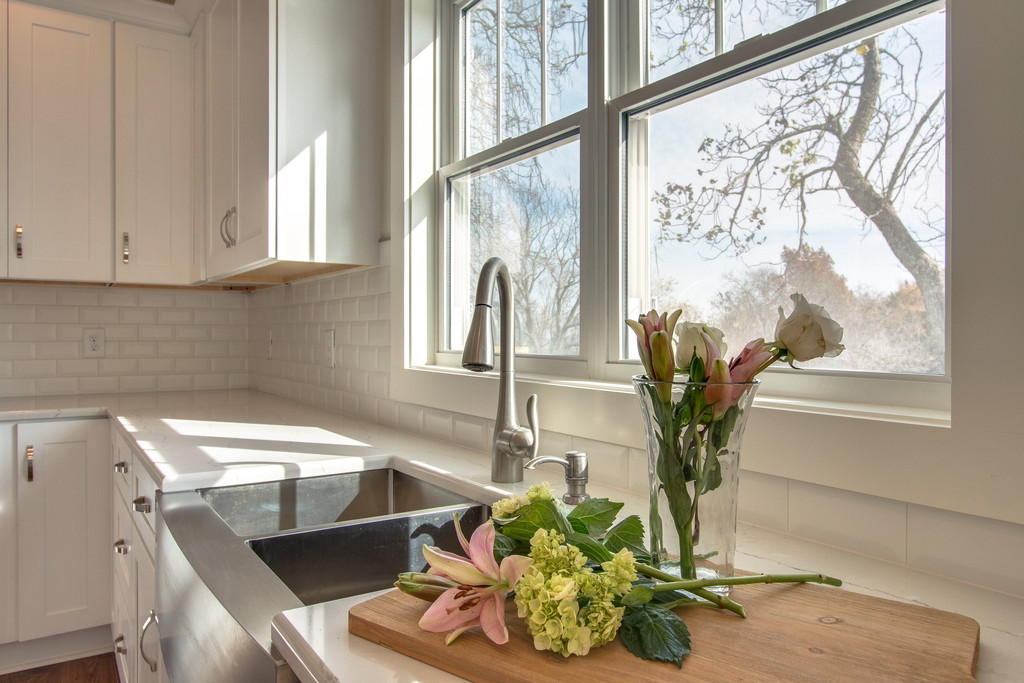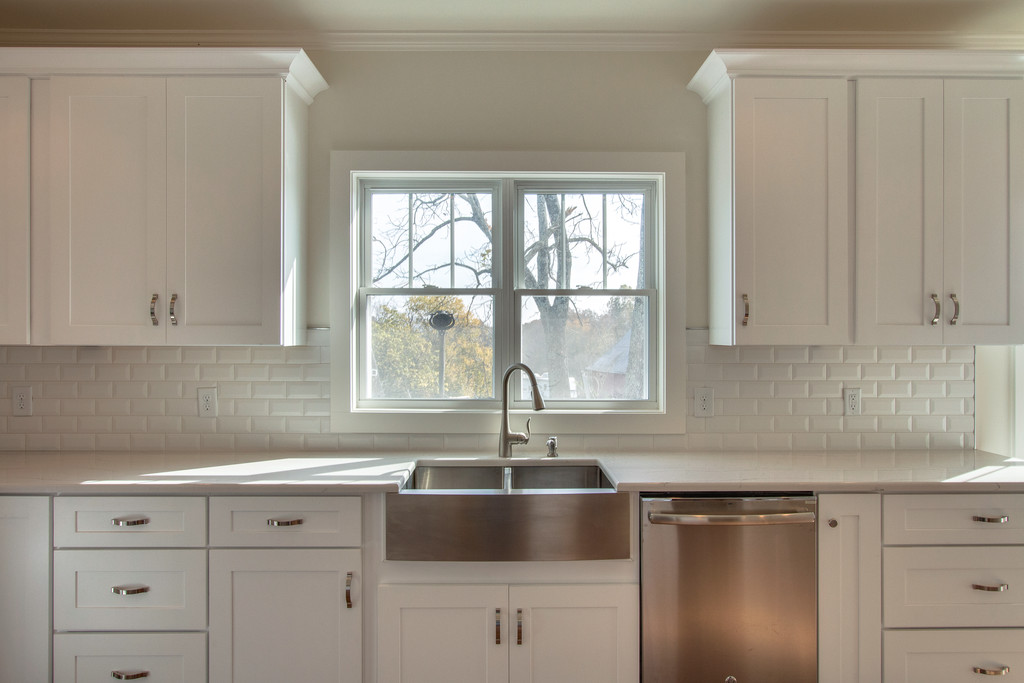 I hope you enjoyed this reno as much as I enjoyed designing and constructing it! and let me know in the comments how you feel about farmhouse style and if you've added any to your home:) and be sure to share the love and subscribe to the blog and share it on your social media with your friends!