Our 3rd Annual Superior Christmas Gift Guide!
November 24th, 2020 | by Elizabeth | Posted in coming home, events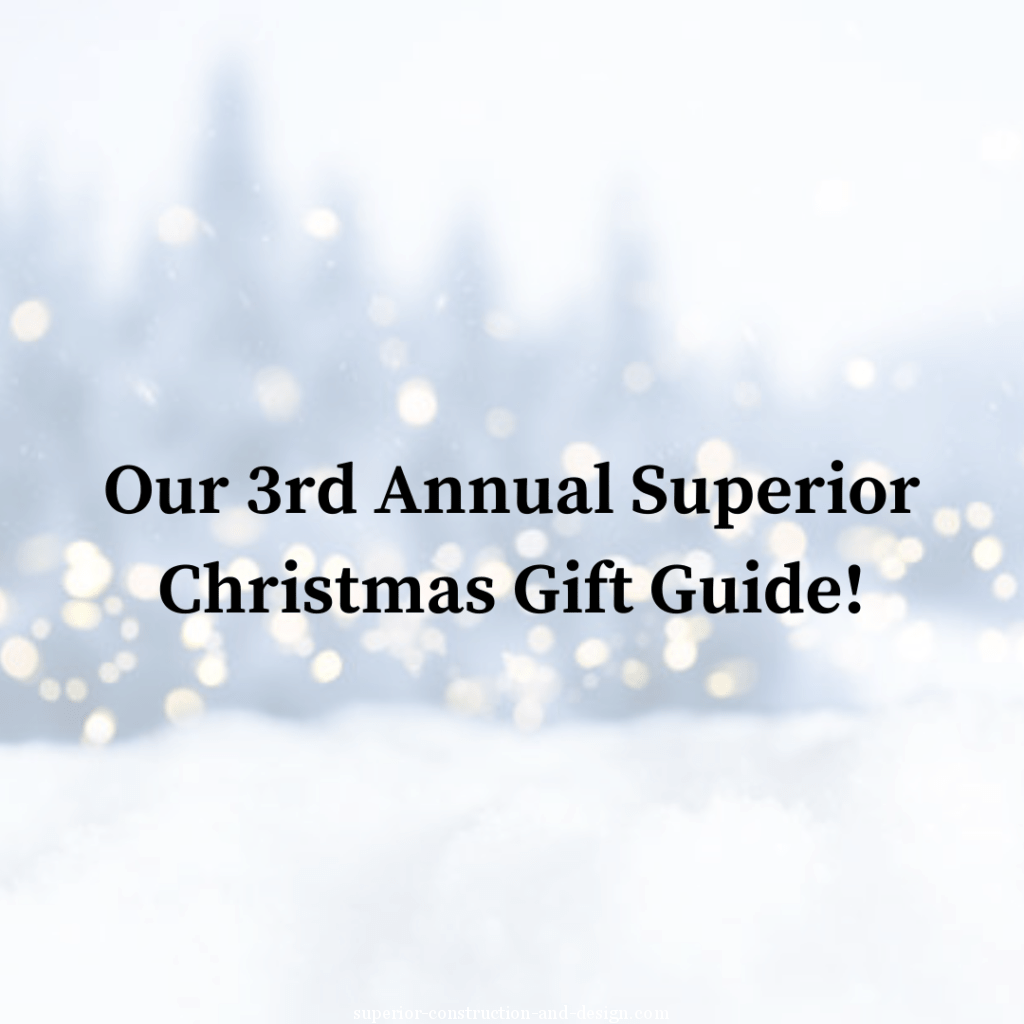 Guess who's back… it's the Superior Christmas Gift Guide, y'all!! I have so much fun putting these together for you every year, but this time around, I thought I'd do something a little different… I asked the lovely SC&D ladies to pitch in!
Lenneke, Nicole, and I each selected some of our favorite Christmas gift ideas. They're all a little different, but so are we! Isn't that the beauty of it?
Come take a look and see if you can find something for the special someone in your life. 😉
Black and Gold Stainless Steel Silverware Set. Beautiful lines and modern design will have your dinner guests impressed. Love this bold yet elegant choice in flatware.
Corelle 20-Piece Dinnerware Set. White dishes are a must-have and make a crisp backdrop for any tablescape and any holiday. Plus, you can drop these and they won't break or chip! Or scratch your table.
Umbra Floating Bookshelves. They're not only clever but functional. A great way to create a usable shelf or display with everyone's favorite decorative accessories and books.
Urban Knit Pouf Ottoman with Storage. I love these fun storage options that look like their cloth counterparts. but won't lose their shape. They can also be used outdoors and wiped down after spills or dirty shoes get on them. Perfect versatile piece!
Stackable Planter. When you don't have much square footage (or don't feel like digging up your yard), these stackable indoor/outdoor planters are incredible space savers, water savers, and time savers. Plus, they look cute and clever.
Large Canvas Stemware Window Storage Chest. This is a great accessible storage solution for the delicate glassware that you don't use all of the time… and that you can't sacrifice an entire shelf or cabinet in your kitchen for either.
Chunky Chenille Knit Throw Blanket. Blankets are always a comfy favorite of mine and these chunky yarn blankets look SO cozy and cute!"
Handpainted Willow Tree Nativity. Willow tree dolls are beautiful. The hand painted, sculpted wood is the perfect material to create a nativity scene.
2020 Pandemic Christmas Ornament. This is a good way to remember my favorite part of 2020, taking a moment to pause and spend time with my family. In the years to come, we'll look back and remember.
Ceramic Electric Candle Warmer. Wax melts are my favorite way to put seasonal scents in my home. The color and style of this warmer are the perfect addition to your décor!
Kate Spade New York 4-Piece Place Setting. We all need a beautiful dinner plate set, and the color and design on this Kate Spade set are to die for! I know Elizabeth would approve. 😉
Embraced: 100 Devotions to Know God Is Holding You Close. Hands down the best devotional you will read. It is SO relatable. If I could give everyone in the world one, I would!
Pyrex Portable Glass Bakeware. I have started cooking at home more this year, and these are a MUST have when making casseroles!
Shadow and Light: A Journey into Advent. I love books, and a new book by a trusted author on Advent is a no-brainer!
Endless Summer 30" Outdoor Fire Pit. I purchased this a few months ago, and we have already gotten our money's worth! So much family fun outside this fall, and perfect for Christmas s'mores!
The Real Life Nativity, 23-Piece Set. I have a nativity almost identical to this that I bought years ago, and it's still my favorite Christmas decoration. It will be an heirloom to pass down for years.
PILOT FriXion Erasable Pens. I may or may not have a small pen addiction, so when I say these pens changed my life, please take me seriously. They are gel. They are beautiful colors. They erase beautifully. They don't smudge. It's everything I've ever wanted in a pen. Joy for $17!
Fire TV Stick. We were so late to jump on the firestick train, but oh, how happy am I that we did! Another game-changer full of family fun for under $50!
Ryobi Handheld Drill/Driver Kit. I lost (or left) my screwdriver on a job site this year and did without one for a while. I saw a good deal on this impact driver and decided to give it a try. I cannot tell you the amount of love I have for my impact driver now! And this kit with impact driver and drill driver is a better deal than I got! If you're in the market for a new drill, or have a hubby that is, you can't go wrong with this one.
Louis Vuitton: The Birth of Modern Luxury. We all know how much I love a good book, especially a coffee table book. I've wanted this one forever, but just never splurged on it myself. One day soon I will! (Someone send this to my husband!) But if you want a beautiful book for your coffee table, here ya go. 😉
And last but not least…
Our New Design Services!
Our newest services are something we are so excited to share with you. AND, just for our blog readers, if you email Lenneke (Lenneke@scdtn.com) to purchase one of these services from reading our blog, we will send you a discount code to use when booking that will save you 15%!
And for fun, I want you to check out my friend's website while you have some time over the Thanksgiving break. I swear I don't know how Chas comes up with all these things, but if you're looking for some great DIY creations, you have to check her out!
Chas Crazy Creations
Alright, I'm wrapping this up here, but I hope you have a fantastic Thanksgiving with your families (in-person or virtual) and I will be sending all my warmest wishes your way. Stay safe, everybody!
Xoxo,
E
Note: This post contains affiliate links and we may earn a small percentage of any sales at no additional cost to you. 🙂