why didn't I think of that?
February 6th, 2018 | by Elizabeth | Posted in KBIS 2018 | #bath, #design, #KBIS, #kitchen, #new products, #remodel

Have you ever seen a new product come to market, and it's so ingenious, yet so very simple and in your face every day, you wonder… why in the world didn't I think of that??

yeah…me too.

And that's exactly what I thought when I saw the new Spetctra+Touch showerhead by leading brand American Standard, part of Lixil Companies, at KBIS in Orlando.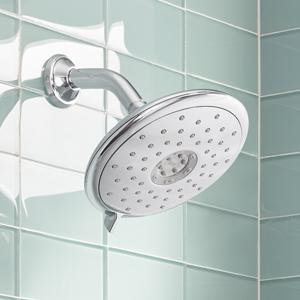 With the new Spectra+Showerhead, you can change the spray pattern (they offer FIVE!) simply by touching the outside ring of the showerhead!
I KNOW! me too!! why in the world didn't I think of that??
We've ALL been in showers, (especially when it is not our own, as in a hotel or when staying as someone's home as a guest), and the shower is set on an obnoxious setting. While getting beat to death with a horrible pulse, we struggle with sudsy hands and soapy eyes to twist the showerhead to an appropriate setting…all the while wasting hot water and vaulable time.
Struggle no more.
American Standard thought of that, and they solved the problem.
And check out the spray patterns offered- NO obnoxious settings here!!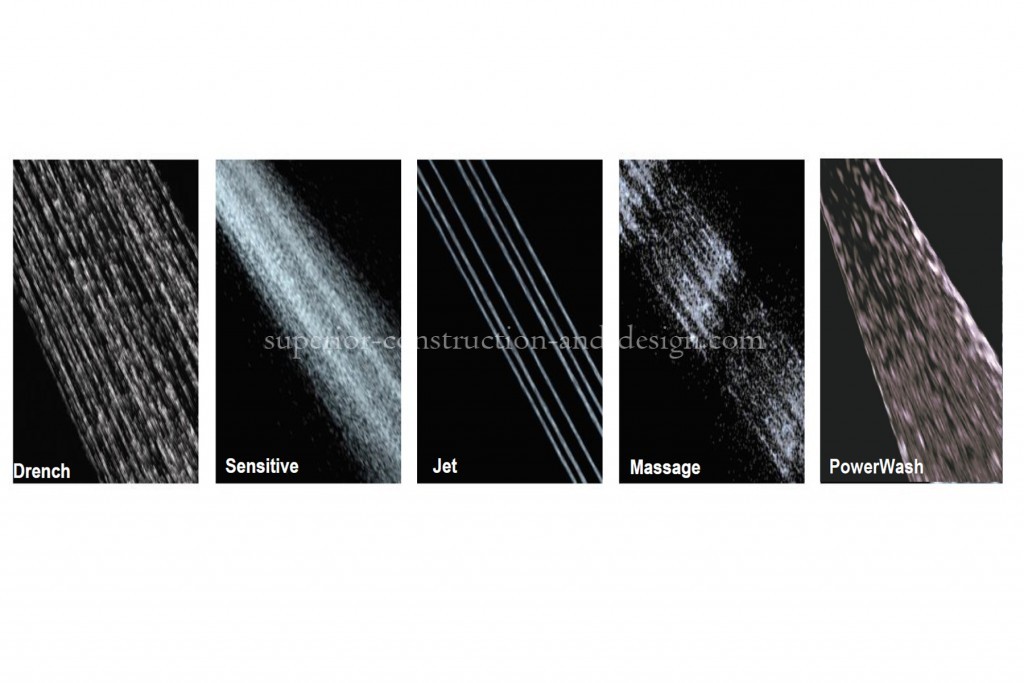 ---
And speaking of showers, I have to tell you about another trend for bathrooms that is on the rise.
Steam.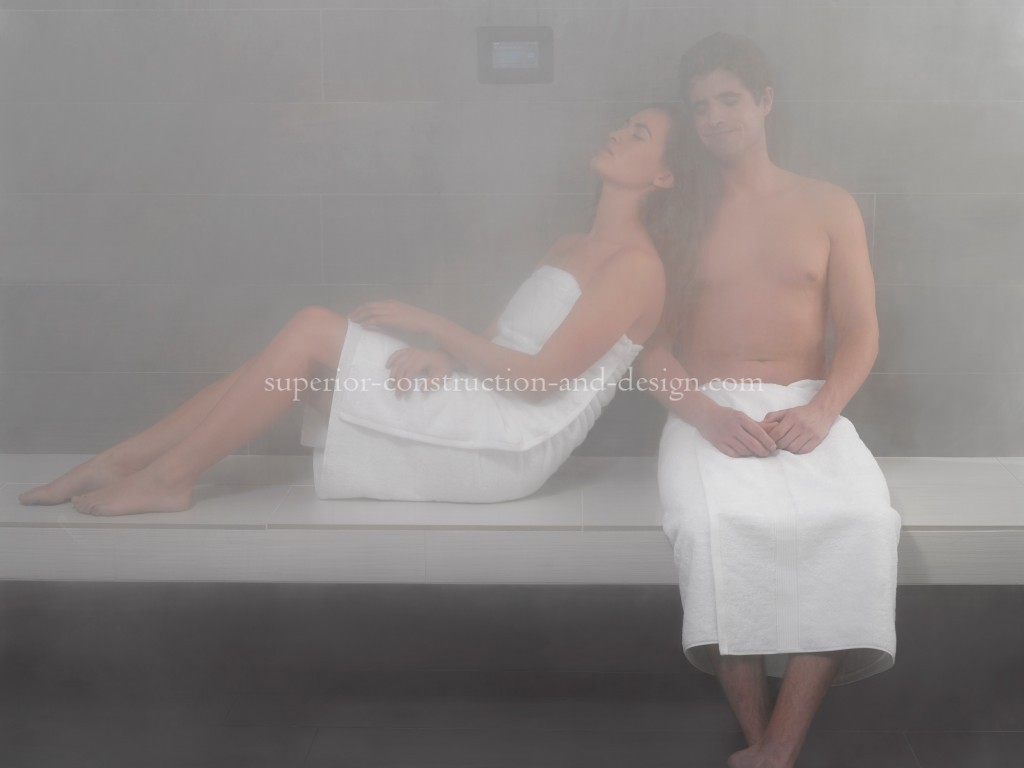 That's right, steam showers are beginning to be the norm- not just a luxury, and let me tell you…the options, price point, and ease of installation I saw from the leading brand in steam, Mr. Steam, truly amazed me. With the ability to even retro-fit an existing shower, there is no reason anyone can not have their own personal relaxation getaway right in their own bathroom. And until learning about Mr. Steam, I thought that this was a very expensive option only available to those with unlimited budgets.
How wrong I was.
Aside from the relaxing effects steam can give, there are many other benefits as well. Taken from the Mr. Steam web site, here are just a few of the reasons we ALL need to be taking steam showers!
MrSteam created SteamTherapy® to help educate and promote the deeply therapeutic benefits of steam. A daily steam shower is one of the most refreshing rewards you can give yourself. Step inside and feel your senses expand. Boundaries soften and disappear. This is the most sensual of beauty rituals: relaxation and rejuvenation, stimulation and exhilaration. SteamTherapy keeps you glowing as warm moisture opens your pores, leaving your skin softer and more supple. Steam cleanses and nourishes the skin, leaving it with a healthy glow. It hydrates dry skin. And, hallelujah, it can also aid in the fight against cellulite while boosting your metabolism. That daily steam indulgence is a natural detox that removes harmful impurities from your body, find more information here

https://healthyusa.co/science-based-green-detox/

. It can also enhance your breathing, leaving you with an improved sense of tranquility, promoting restful sleep and wellness. As if that weren't enough, steam is also recommended for the relief of symptoms of colds, flu, sinusitis, bronchitis, allergies, asthma, throat irritation, arthritis and more. Sore, tired muscles? Rigid joints? Steam eases the pain. And don't forget the wellness benefits of aromatherapy and chromotherapy, along with the calming swirl of music (using a wave field synthesis system)that turns that dreadful day into a distant memory.
So, as if the health benefits aren't enough, add these relaxation options to your steam heaven, and you may never leave the bath! Lighting, sounds, oils, oh my! and it all can be controlled with what else? Your iPhone, of course!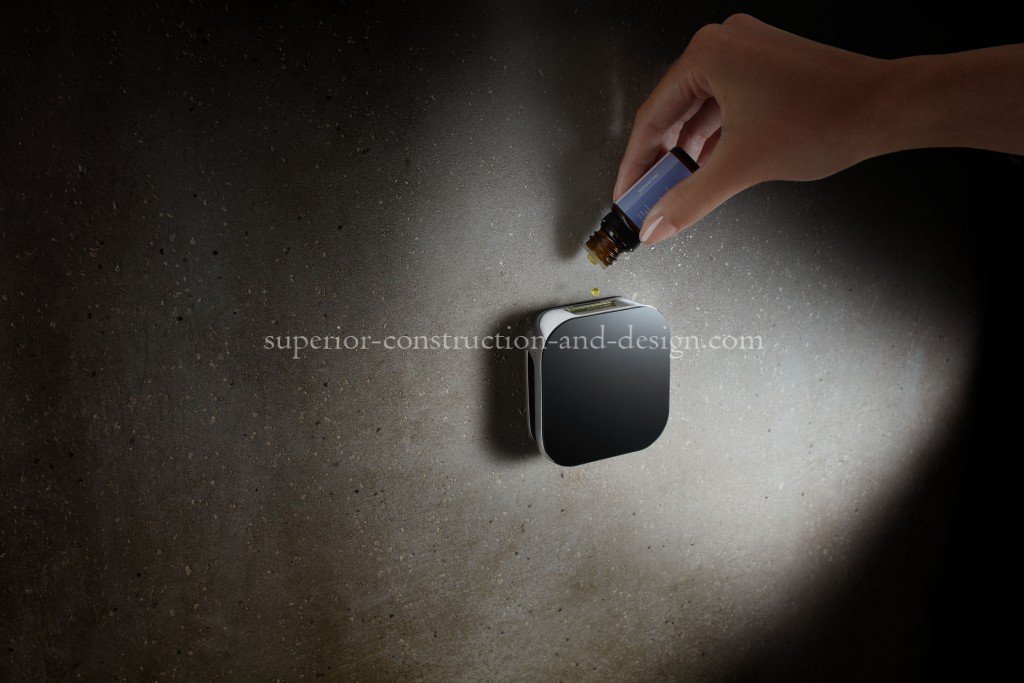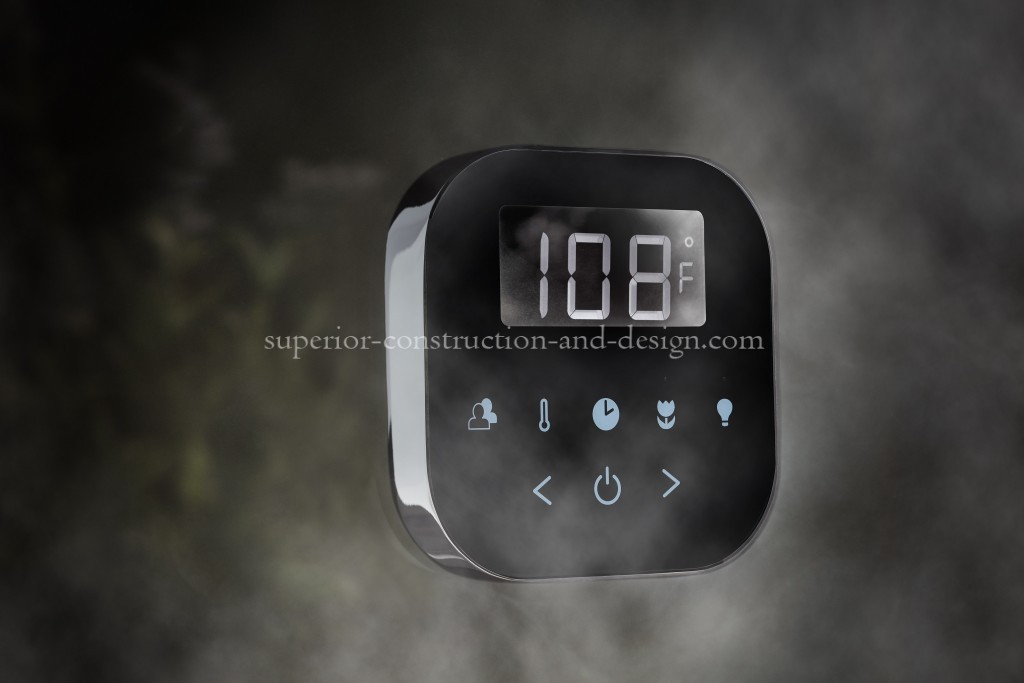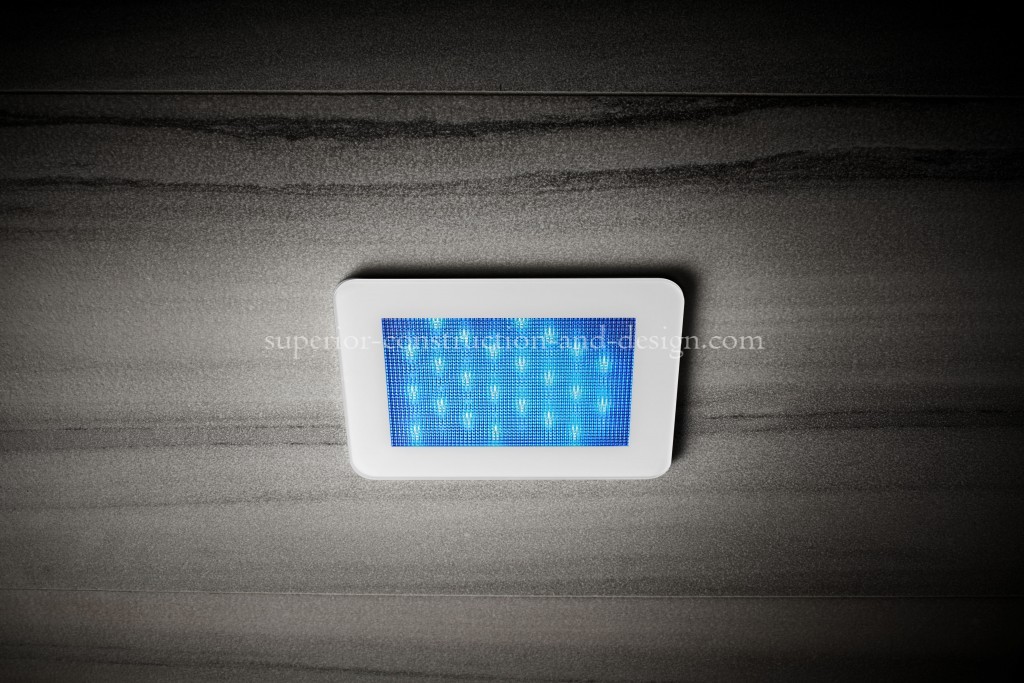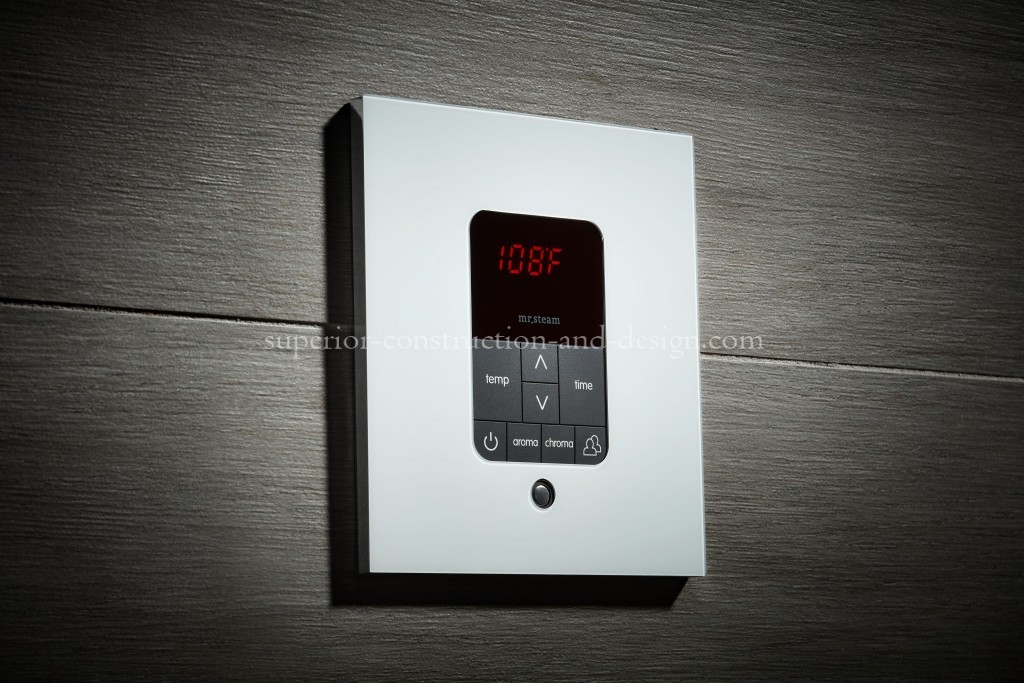 ---
In keeping with the bath theme, I wanted to share one more VERY interesting product I saw at KBIS, and that was from Wilsonart. Now…when I think of Wilsonart, I'll be honest. I only think of laminate countertops. And when I think of laminate, I think of budget-friendly or commercial setting projects.
Well.
Let me tell ya…laminate has come a long way baby!
First of all, Wilsonart is no longer JUST a laminate company. They also have their own quartz and solid surface lines now as well. I was so impressed by the quality and versatility of each of these offerings and just how many applications they can be used in.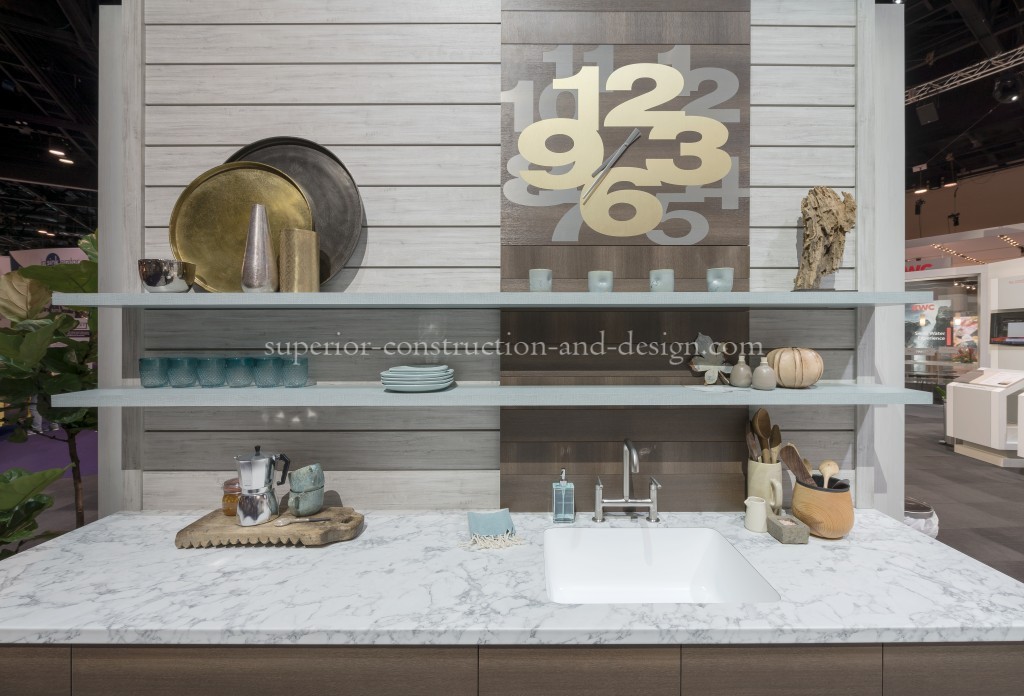 Ya see all that? That's ALL Wilsonart!
The tops are from their quartz line, the "shiplap," the shelving, and even the cabinet doors…..ALL laminate by Wilsonart !
i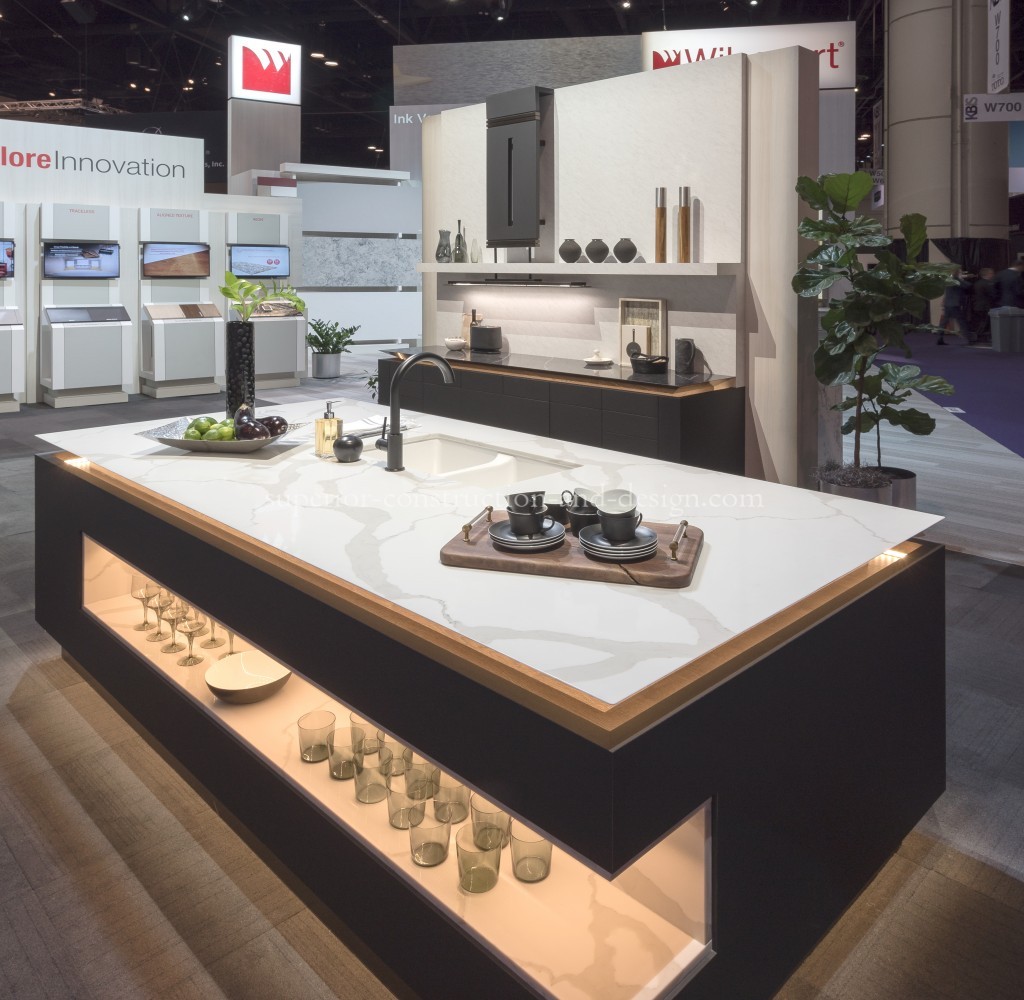 I loved the look of this "knife edge" detailing on this island fashioned from their quartz line. Now the lighting, not so much.
---
But I said this had to do with the bath theme of this post didn't I?
Well…check this out.
Interlocking wall systems by Wilsonart that are completely water-sealed. This is a game-changer as far as I'm concerned when it comes to remodeling older homes, multi-unit dwellings, etc. The price point is SO much more cost effective than having to go back with tile, and looks SO much nicer that a fiberglass unit.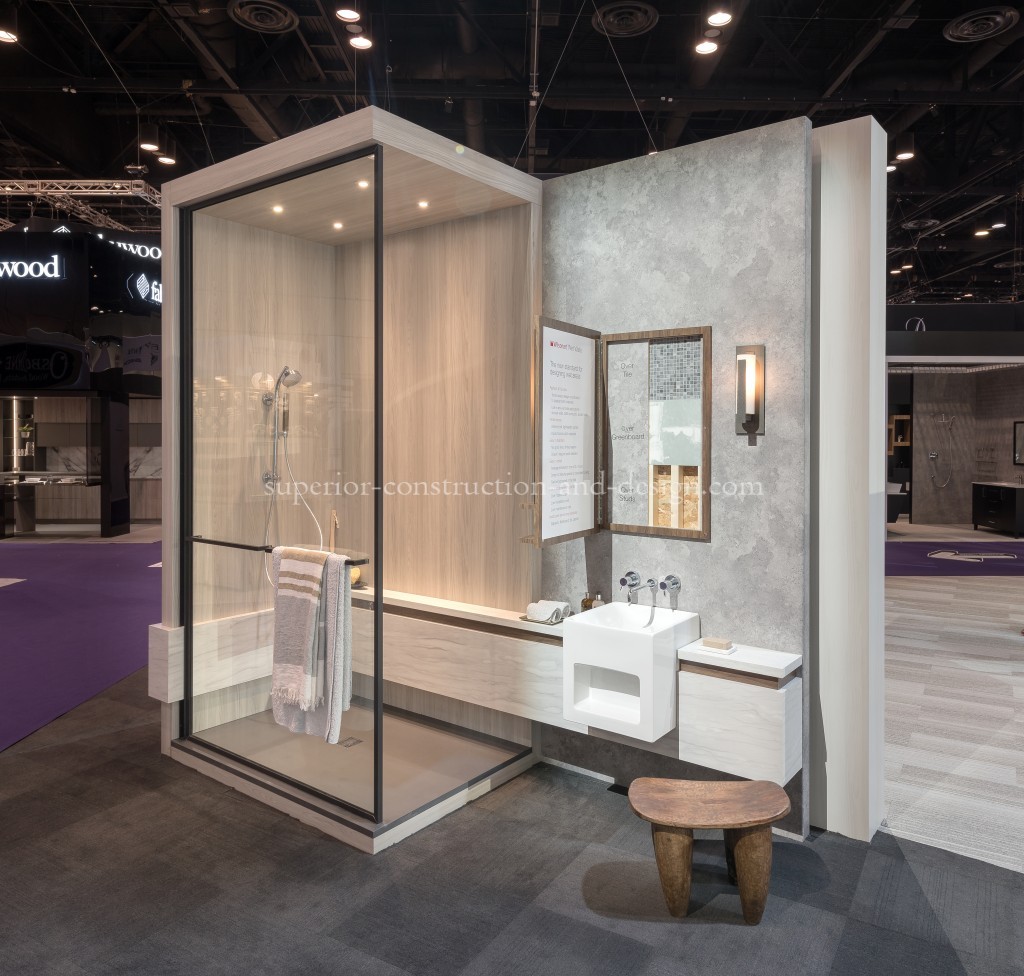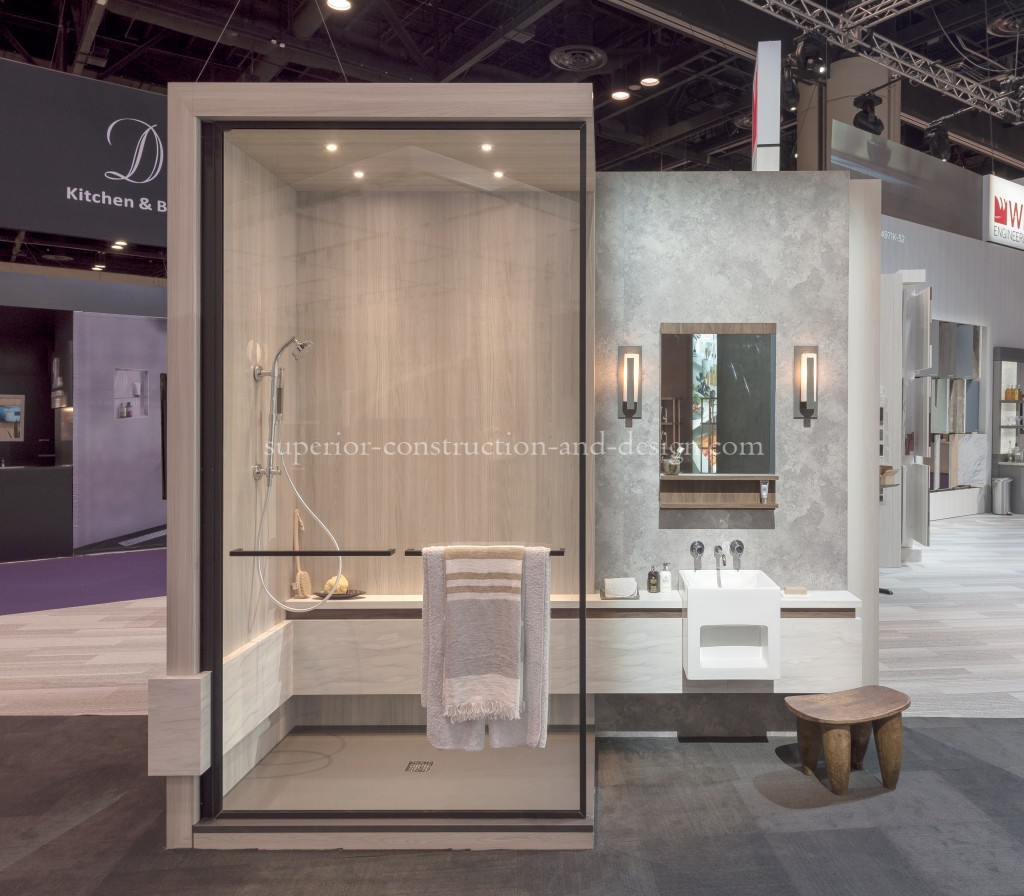 So if you're thinking of remodeling your bath, or you are currently building, you need to check these products out- I know I will be specifying them in future remodels!
Thanks so much to Modenus and all of the KBIS BlogTour sponsors for sending me to KBIS this year! This is a sponsored post, but all opinions are my own.